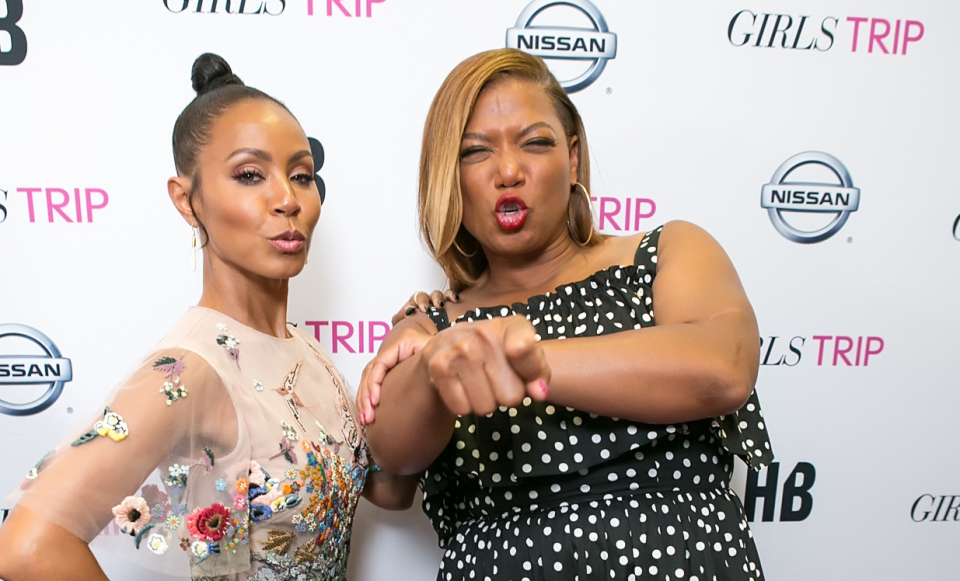 Jada Pinkett Smith and Queen Latifah reveal how Will Smith impacted both their lives.
"Will and Jada have been there my entire career," Latifah, 47, recently told People of her Girls Trip costar and actor husband. Latifah went on to reveal that while she first met Pinkett Smith, 45, as a teenager, "Will gave me my first job on TV." You may recall that the then aspiring rapper kicked off her television career with a guest role on Smith's hit '90's sitcom "Fresh Prince of Bel-Air."
"I was like, 'What the f— do I do?'" the 47-year-old "Star" actress recalled of her first time on camera. "Director Ellen Falcone pretty much taught me how to act."
Of course, the sitcom also had a major impact on Pinkett Smith's career. Though she didn't land the role after auditioning in 1994, it was on that very set that the "Gotham" star would cross paths with the man she'd marry.
Fast forward to 1996, after the duo starred in Set It Off together, and "I got married and had two kids. My life went in a whole other direction," Pinkett Smith continued.
Today, the trio is closer than ever. So much so that when it comes to the pair's children, Jaden, 19, and Willow, 16, "I'm Auntie La," Latifah told the entertainment news site. According to Pinkett Smith, her husband and pal are basically two peas in a pod. "She loves words," added Pinkett Smith of Latifah. "Will has the same thing. They have a fascination with words." Latifah added, "I hit Jada with new words every week."
In fact, "Jada and I can have whole conversations where we haven't really said anything, but we've said a lot," continued Latifah of her bond with Pinkett Smith.
We assume that's what makes their latest project, Girls Trip, look like so much fun. As previously reported, the longtime friends star alongside Regina Hall, Tiffany Haddish, and Kofi Siriboe in the highly anticipated comedy which follows four old friends who travel to New Orleans for the annual ESSENCE Festival, where things get wet, wild, and spectacularly hilarious.
Girls Trip opens in theaters nationwide on July 21.