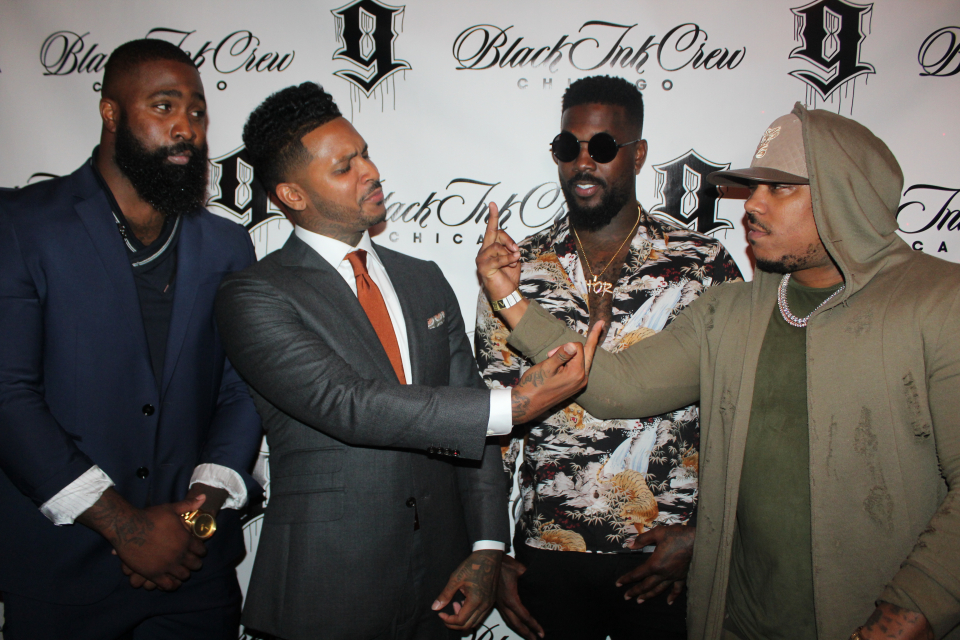 The men of "Black Ink Crew Chicago" were out in full force at Casey Moran's for the premiere of their third season on VH1. The spirit of the night was celebratory and there was a genuine spirit of camaraderie and respect among the stars of the show, however, the drama is at a fever pitch on the show.
Ryan, the owner and creator of the 9Mag Tattoo Studio, has found the love of his life in Rachel. "She is the mother of my child. My soul mate. Just the woman that makes my mouth salivate." he said.
Ryan has been asserting more of his leadership recently. He fired Danielle and hired a new receptionist. He also returned to the shop with Ryan Henry merchandise from his tattoo tour. This makes Van feel a certain type of way. "Things changed when Ryan decided to go on his solo tour by himself. Originally it was supposed to be everybody at 9Mag. He switched it up on us just like that." said Van.
Kat Tat and Charmaine were noticeably absent from the premiere. Kat has moved to L.A. to establish her own brand and Charmaine has branched out and become a radio personality while at the same time nurturing her new relationship with Neak. We were told that they did a premiere on the West Coast.
Regardless of all the drama on-screen, the cast seems to be in a genuinely good place. Let's see how the rest of the season unfolds.
Take a look at a few of the pics from the premiere below.