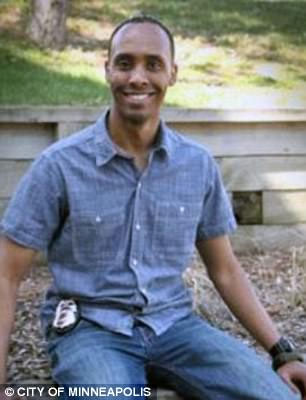 The recent shooting of an unarmed White woman named Justine Damond by a Black cop and Somali immigrant, Minneapolis police officer Mohamed Noor, has exposed the hypocrisy of the Blue Lives Matter movement. Noor and his partner were responding to a 911 call from Damond in which she heard a "woman having sex or getting beaten."
When the police officers parked their patrol car in a nearby alley it was reported that Damond hit the back of the police car with her hand and approached the driver's side window. Noor pulled his service weapon and shot Damond in the abdomen. She later died from her injuries.
Since the shooting, there were attempts to setup a GoFundMe campaign for the officer and his family for expected expenses. These pages were soon taken down by the website for some unknown reason. GoFundMe in the past has taken down campaigns for people who are charged with a crime, pending the outcome or phrasing of the campaign, This did not stop NYPD Sgt. Hugh Barry supporters from raising over $60K to help his wife and family. Barry is facing murder charges for killing a naked Black senior citizen who suffered from mental illness named Deborah Danner.
If you search in social media there is no official statement of support for Noor from the Fraternal Order of Police or the NRA over the shooting. Instead, Noor was identified within the media and his personal life and past complaints were immediately released for scrutiny. This is unlike the officer who was involved in the shooting of  Philando Castile by Minneapolis Police Officer Jeronimo Yanez.
But this shooting of an unarmed White woman in pajamas was the tipping point that led to the resignation of Minneapolis Police Chief Janeé Harteau last week and calls for Mayor Betsy Hodges to resign from office.  News media showed hundreds of mostly White protestors protesting the shooting of Damond and included the mother of Philando Castile in support.
Noor was previously praised in local media as being the first Somali officer in his precinct and a college graduate. He is the subject of an internal investigation and has given no statement regarding the shooting. Because of a provision known as the "Garrity Warning" in Minnesota public employees under internal investigation are given the option to provide information or face disciplinary action. Because of the wording of the law, any statement that Noor gives in a police internal investigation cannot be used against him in a criminal case. The "Garrity Warning" reads in part: "Because you are being required to provide information under the threat of disciplinary action, the information you provide, and any evidence resulting from the information you provide, cannot and will not be used against you in any subsequent criminal proceeding."
This fact is not sitting well with many in social media circles and for the first time, there is open reverse victim blaming on a cop. Noor is currently in divorce proceedings and he's also being sued for false imprisonment in the arrest of a mentally ill woman. The alleged victim identified as  Teresa Graham was allegedly forcibly sent to a hospital for mental illness but was cleared. She is also suing Noor for battery, assault, and negligence. The conservative news website WND has described Noor as an "affirmative action hire" despite the fact that he holds a degree in economics and business. It will be interesting if Noor uses the reason for the shooting  as "he was in fear for his life."