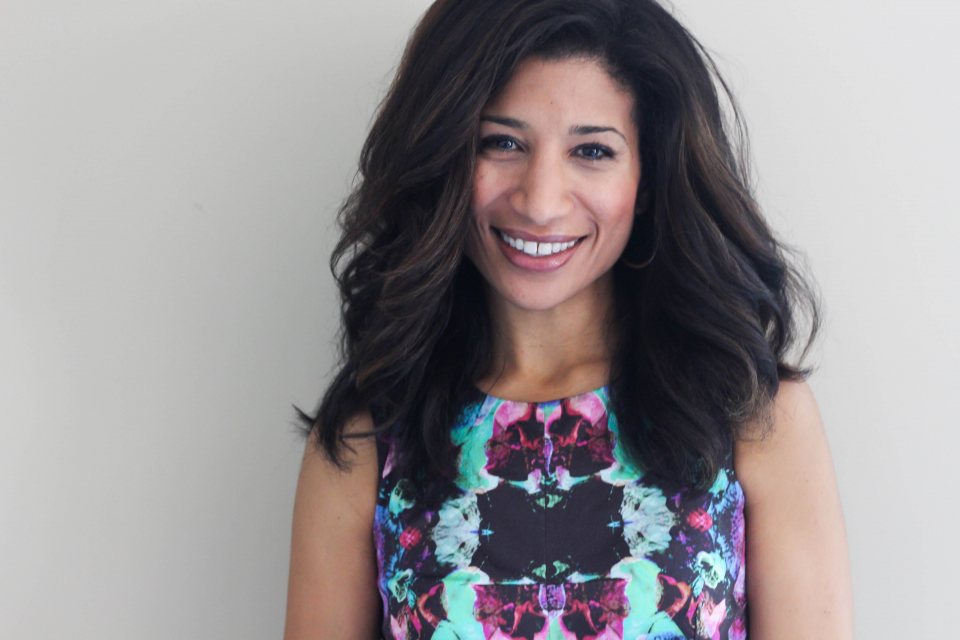 In 2014, Debra Shigley enrolled in beauty school in Mexico City. It may not sound like an orthodox move for an attorney and Harvard grad to go to beauty school at all — let alone in another country and language — but for Shigley, it was her first step to entrepreneurship.
Shigley's affair with beauty began in undergrad at Harvard when she and her best friend, Jennifer Hyman, the founder and CEO of Rent the Runway, were roommates. The duo wrote a piece for Harvard's newspaper, The Crimson, addressing Harvard's noninclusive beauty narrative.
After graduation, Shigley worked as a beauty editor and attorney. She is the author of The Go-Getter Girl's Guide, and serves as a regular contributor on the "TODAY" show, "CBS This Morning" and CNN.
Once Shigley completed beauty school and returned to Atlanta, she partnered with Harvard alumna Stephanie Belcher to launch the Colour app in May 2016. Belcher, an experienced operations executive and financial consultant, shared Shigley's passion for beauty and desire to deliver salon-fresh on-demand hair to women of color.
One week after launching the Colour app's newest development, Real Women Reviews, Shigley sat down with rolling out to discuss breaking into tech, expanding beauty standards and the salon in the cloud.
What is Colour?
Colour is an app for in-home hair care, think Uber for Black hair. [It is] geared toward women of color, women with textured hair, like us.
You are a Harvard graduate with a law degree from Georgia State University. What is your connection to beauty?
I started my career actually as a journalist. I worked at Atlanta Magazine around the corner, and as I grew in my career, went to law school and did a lot of TV stuff, it was just kind of the bane of my existence. If you're a Black woman, at some point in your career, you probably have left for a lunch break and come back five hours later because you're waiting [for a hair appointment]. I think it was just years and years of being frustrated with the lack of convenient options. As I grew and got married, I have four kids now, it just became extremely inconvenient for me to actually get to the salon. As the years went by I eventually ended up living in Mexico City and had this idea that I just wanted to bring to life. I went to beauty school while I was living in Mexico City in fluent Spanish and started doing the legwork on Colour.
What advice would you give to other mothers starting their own businesses?
I think everyone has a different journey; I'm very early on this path. I think the best advice someone gave to me, whether you have kids or not, at any point in your career, is honestly to just start. I think because a lot of us have something inside of us, a business idea, a book, whatever it might be, you can spend a lot of time thinking about it, planning for it, getting advice about it, talking to mentors about it and eventually you just have to do it. You learn a lot along the way and so I think that's advice that's been helpful for myself. Just start and figure it out as you go.
What advice would you give to women of color or people of color in general on breaking into the tech space?
Our company, we obviously are an app, so it is tech but it's also beauty, it's logistics, it's so many other things, so I think one point is to not get intimidated that you are in the tech world. I personally am not an engineer. My co-founder is not an engineer. We are as they say "nontechnical founders" but in that it definitely doesn't hold you back because there are a lot of other skills [needed]. If you have a vision for something, again, you just sort of have to start, and find great teams of people to work with you. Another great piece of advice someone gave me was if you're going into tech, if you're looking for someone to help you code, if they can't explain it in layman's terms to someone outside of [the tech] world, probably that person is not that good.
When you think about the beauty industry, how do you think technology is helping it evolve?
We have all of these great delivery services but I kind of feel like beauty is stuck in the past a little bit. The second piece of it is the multicultural aspect. I am a woman of color; my ethnicity is I'm half Black and half Jewish. My hair texture is very kinky and curly. You have Black women who spend close to 12 billion dollars a year on hair and yet the industry puts them in a silo over here as the "ethnic aisle." It's crazy. What we're trying to contribute to and be a part of is a movement to democratize the hair space, help bring it into the modern era because what's next in beauty is not what's always big. The future of beauty is women who look more multicultural, who are more multicultural, identify with different racial backgrounds and have different needs.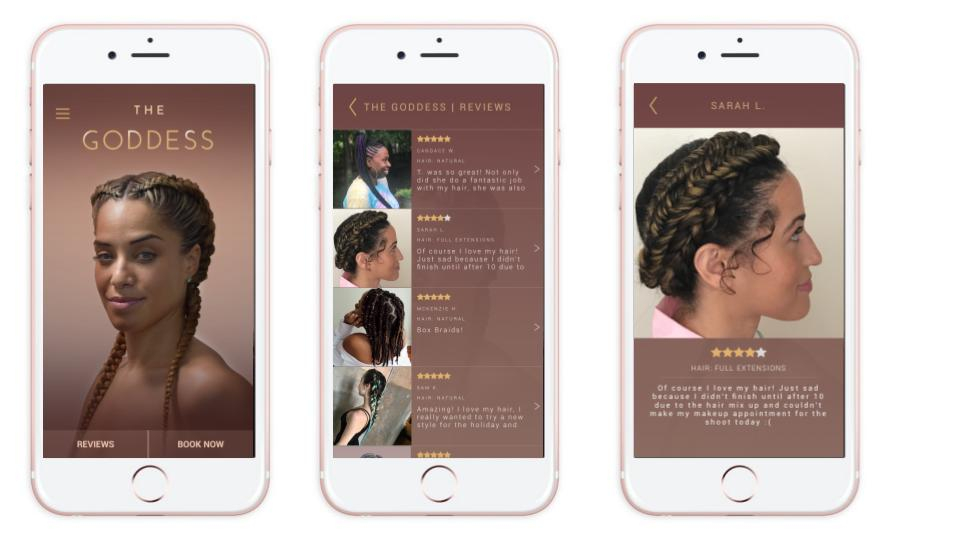 Walk us through how to use the app.
You have a flight to catch at 1 p.m., you are going away for the weekend with your girls and you want to get a professional braided look for your trip to Playa del Carmen. You would go on to our app, browse styles, we just launched reviews so you would probably check and see what other women got variations of that look and then you would book the appointment. The first time you do it, all your information would be entered like your address and credit card number so that everything goes cashless. The day of the appointment you would most likely wash your hair and you'll get a notification saying your Colour stylist is on the way. She meets you at the door, you sit down probably at your dining room table or the kitchen table, and she sets up all of her professional products. You finish working, you're calling your girlfriends or texting saying "hey I'm getting my hair done for the trip," and then she finishes her work. Your hair is beautiful, she leaves, you're off to your flight and you pay through the app.
How many first-time Colour app users are return users?
Our repeat rate is one of two-thirds, which I think is amazing in this industry. Our positive review rate is 98 percent, we're super proud of that. Black women, we don't play with our hair. I think one thing that we've learned even more so than when we started is just how important customer service is. We live in a world where there are great resources like StyleSeat and things like that but the fact is there is no customer service and stylists are busy and they can't always manage their phone platforms. We think of Colour as like a salon in the cloud. We try to do our best at everything going perfectly but we know stuff happens so let's say someone is running late, or you want a slight difference in your appointment time, or you want to change your look or you have a particular concern about heat damage, all of that stuff comes through our customer service hub so that that information is given to the stylist and is kept track of. It's really important to us that our clients know that we are here beyond just one single appointment it's an ongoing relationship that we're building from this salon in the cloud.