"Friends. Romans. Countrymen. Lend me your beards …"
If there is ever an assembly of this nation's brightest, bearded minds, smart money would suggest that the convention would begin with those words. And while that utterance would be a clear knock off of Shakespeare's finest hour as a writer, there is something poetic about the beard revolution currently sweeping the nation.
Simply put, there's something undeniably powerful about a well-groomed beard. That very power was harnessed by rolling out and Luster's S-Curl, resulting in a nationwide search for the ultimate bearded warrior. What you see before you is the culmination of that search, and it all begins with contest winner Cameron Davis.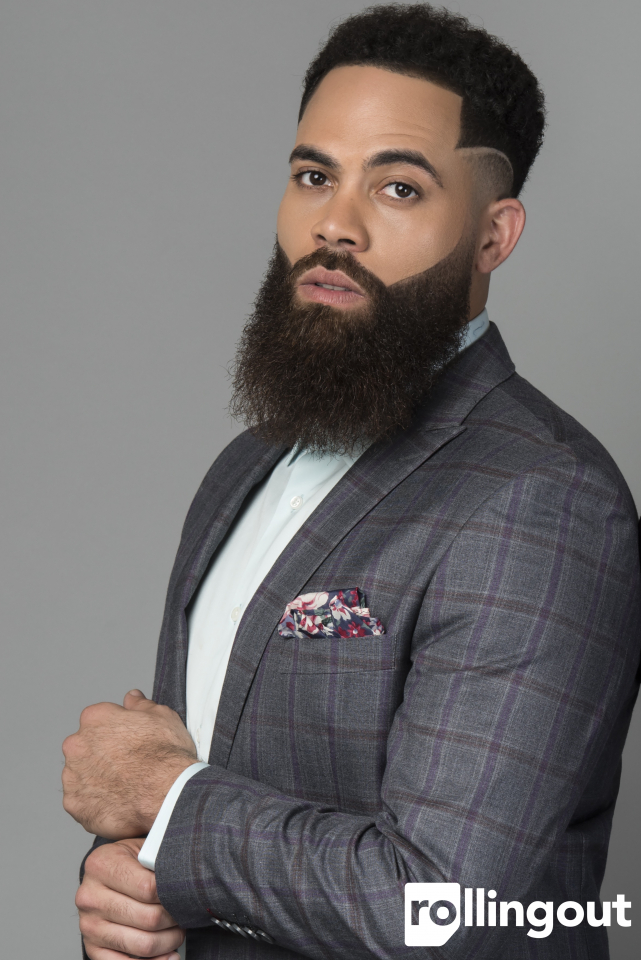 Contest winner Cameron Davis
How did you hear about the beard program?
I heard about the program through a friend back in Houston who owns a beard company. Also, I heard about it from family members, friends, who subscribe to the email blast and follow rolling out religiously. So, I heard about it through them, and I heard it from about two or three people in one day, so I figured it was probably the universe talking to me [and] it was something I should definitely see about getting into.
What has been the highlight of your trip, so far?
The highlight of my trip so far has been definitely seeing parts of New York that I always wanted to see. Being my first time here in NY, seeing the lights in Times Square, taking the subway for the first time, eating authentic NY food … people talk about it all the time, so those are some things that I've really enjoyed.
What was it like working with George?
Working with George has been amazing. He's a spectacular dude in terms of what he does. Putting these things together, fashion, the brand, and everything. The Bearded Dapper Gents is a movement, and I know it's something that people say often, but it really is. So, hopefully, it's something that continues to grow.
How long have you been rocking the beard?
I've been rocking the beard now for about 2-3 years. It's been a process getting it to the length where I want it to be, but it took about 10 months and it's been about three years now since then.
How do you maintain your beard?
I maintain my beard with a lot of different oils, bongs, shampoos, conditioners, things like that. The Luster's S Curl beard product brand is something that is a big help with the trends that are going on right now.
What was it like being groomed by master barbers?
Being groomed by master barber Kenny Duncan was amazing. It's something about the level of detail that he puts into it; it is something to behold. It's been awesome.
On products that he likes to use:
One of the best parts about winning this contest is winning the year-long supply of Luster's Beard Products. Especially the beard oil; it's a daily use. You want to keep that in your beard for a healthy look. So the Luster's S Curl beard product, specifically the beard oil, is something that I'm looking forward to in this year's worth of supply.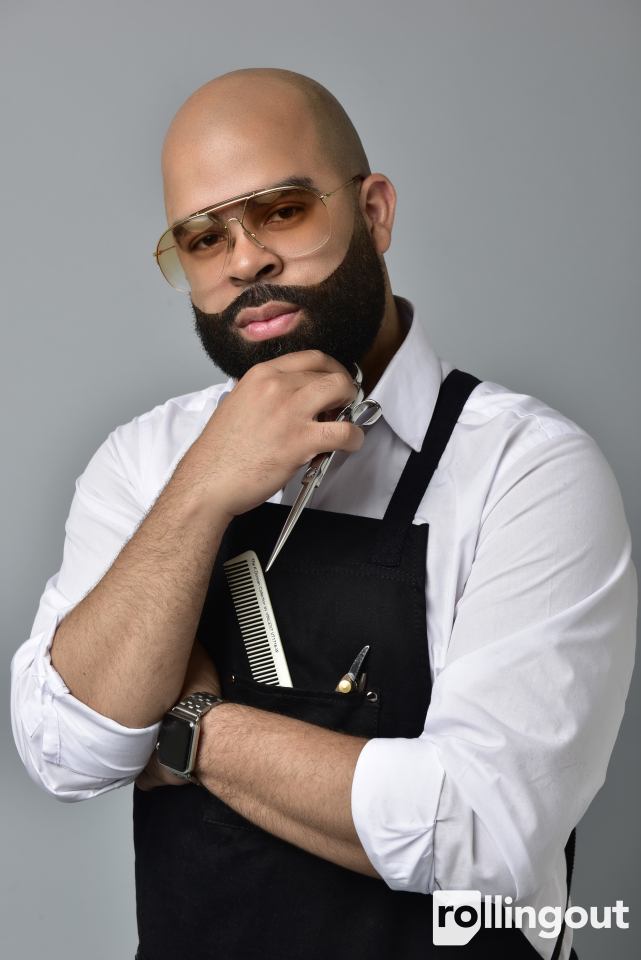 Featured barber Kenny Duncan
How did you become so well established in the industry?
Well, I'm known as a national educator, but I call myself a local barber who just loves what he does. I believe in consistency. As long as you remain consistent, and maintain relationships with people, I think everything else takes care of itself. I just focus on making sure I maintain consistency and continue working on being a better person … then that itself will allow me to be utilized and be valuable in many different spaces.
How does social media play a role in your success?
I don't feel social media has had a big impact on me as an educator, but it has had an impact on a lot of directed consumer relations. I use social media to share my heart and my passion as a barber that loves what he does.
When you became a barber, did you see yourself coming this far?
Funny thing is, I didn't even want to be a barber. I just told people that I was going to be a barber to get me through college. As a young barber, growing up in Philadelphia, I aspired to be an accountant or an engineer. When I applied to college, I got into schools I wanted to, and it was in April 2001 when I decided to take a semester off. I was at Temple University, Fox School of Business. I wanted to take a semester off and figure out exactly what I want to do because at the time I was cutting hair and making $36K a year, part-time, but I was entering a career as an entry level accountant where I would be making $40K a year [full-time] … I needed to figure things out. When I took time off, the relationships I cultivated through clients that are in the music industry allowed me to be paid to be in spaces that other people gotta pay to be at. Through relationships such as a gentleman named DJ Active, a close friend of mine, introduced me to Musiq Soulchild, Mario, and many other people that I ended up working with including Justin Timberlake. And this was all because I maintained those relationships, loving what I do, making sure that people looked well-groomed on TV. Next thing you know, I've been a part of four world tours and continued to do what I love. I just didn't want to be a barber, at first. That's the funny thing. But I grew in love with it. And I ask myself now, what other careers would provide me opportunities to meet so many people, and be myself as much as possible like barbering? Nothing. So, therefore, here I am a local barber, sharing his passion with the world.
What advice would you give people trying to get to this level of barbering in the industry?
Hard work and dedication is the key to success, and getting you to the next level. Doing the things that no one else is willing to do. When everyone else is partying, you're doing something productive. I challenge everyone to think about what you Google. Are you googling something that's going to help you achieve your goals and make you better than what you are now? Or are you googling something that's just entertainment? Those are the things that I think about on a consistent basis. Am I doing something to improve who I am? Therefore, the relationships are important, too. That leads to the next question: who are you surrounding yourself with that's going to help you get to that next level? Those are the two things that helped me become a better person. … You are a reflection of the people that you are around.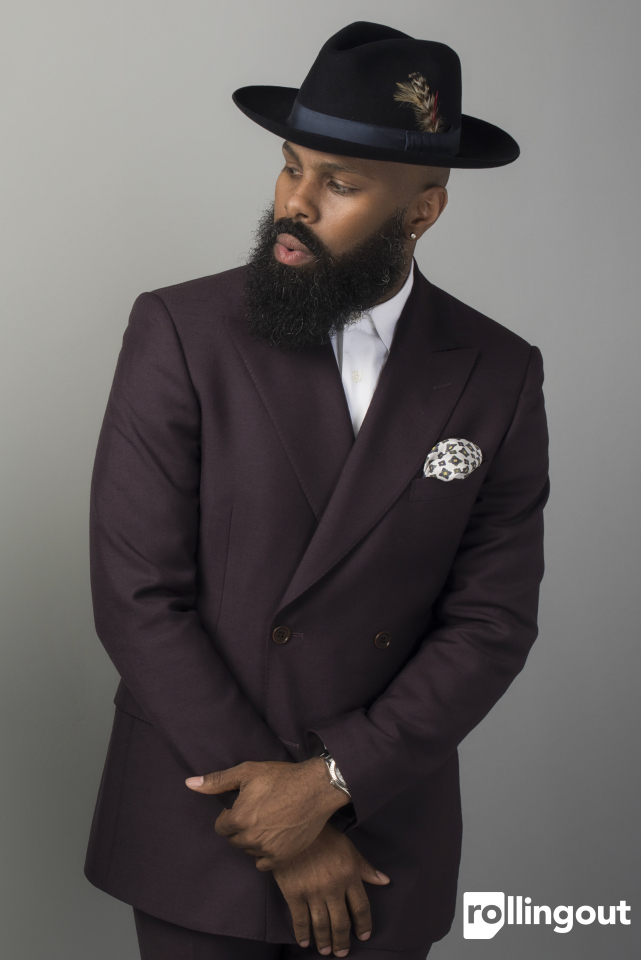 Influencer George Myrie
How did this project get started?
What initially happened was Terrance Pratt of rolling out reached out. He said, "Hey, George. I have this idea." Naturally, I said, "What's the idea?" He told me that he wanted to do a shoot with myself with a bearded man as a contest, and the winner of the contest would be in the shoot. In addition to that, he has a client [Luster] that wanted to be in the shoot too for their product Free Flow. From there, we organized everything, coordinated between emails, text messages, phone calls, and now we're here.
So what did you do to prepare for today?
[There] was a lot of back and forth between myself and Terrance. A lot of last-minute changes, a few different calls that we had to put in. [There] was a lot of planning.
What is the importance of these types of projects for our community?
The importance of these types of projects for our community is beyond recognition because we put out positive images of Black men so other Black men can see these positive images of Black men. If you Google Black men, you're not going to see that. Luster taking the initiative of this project and wanting to shoot us and glorify us is great. Very important.
What is your role?
I am the creative director. I shoot film. I shoot video. I shoot photography. I organize shoots, some wardrobe styling, some of everything. I'm an all-around man.
Give advice to people who aspire to follow in your footsteps.
Stick with it. Post on IG. Get your images out there; get your videos out there. Make sure there are people out there who can actually see [your work] because if they like what you're doing, they'll reach out.