It's easy to understand why China Anne McClain was born to be a star. Music and entertainment were never just hobbies. It proved to be the family business.
That's what happens when you are born to a father who produces music and a mother who is a songwriter. From day one, China was fed a healthy dose of music from different genres and eventually found herself belting out tunes before she could form coherent sentences as a toddler.
"There was always music playing in our house," China revealed during an interview with rolling out. "So, at the age of 3, I was like, 'I want to be a singer.' I could barely talk, but that's what made me who I am and that's what gave me the love of music that I have today."
China's captivating voice became her ticket to Hollywood. After appearing in her first film, The Gospel, China displayed a knack for comedic timing on Tyler Perry's "House of Payne." She, and her siblings Sierra and Lauryn McClain, also warmed the hearts of moviegoers while co-starring with Idris Elba in Daddy's Little Girls. But it was her zany antics on Disney's "A.N.T. Farm" that expanded her fanbase and allowed her to showcase her multitude of talents.
And all of this occurred before reaching the age of 20.
This past summer, China's success continued with the breakout movie hit, "Descendants 2." At press time, the Disney Channel film has reached an audience of over 21 million across six different networks. She will also be a lead in the TV series "Black Lighting" and appear in the film, Ten.
With over a decade of experience, China has already cemented a respectable legacy as a youth in Hollywood. But she knows that this is just the beginning.
Here is the journey about the making of a superstar named China Anne McClain.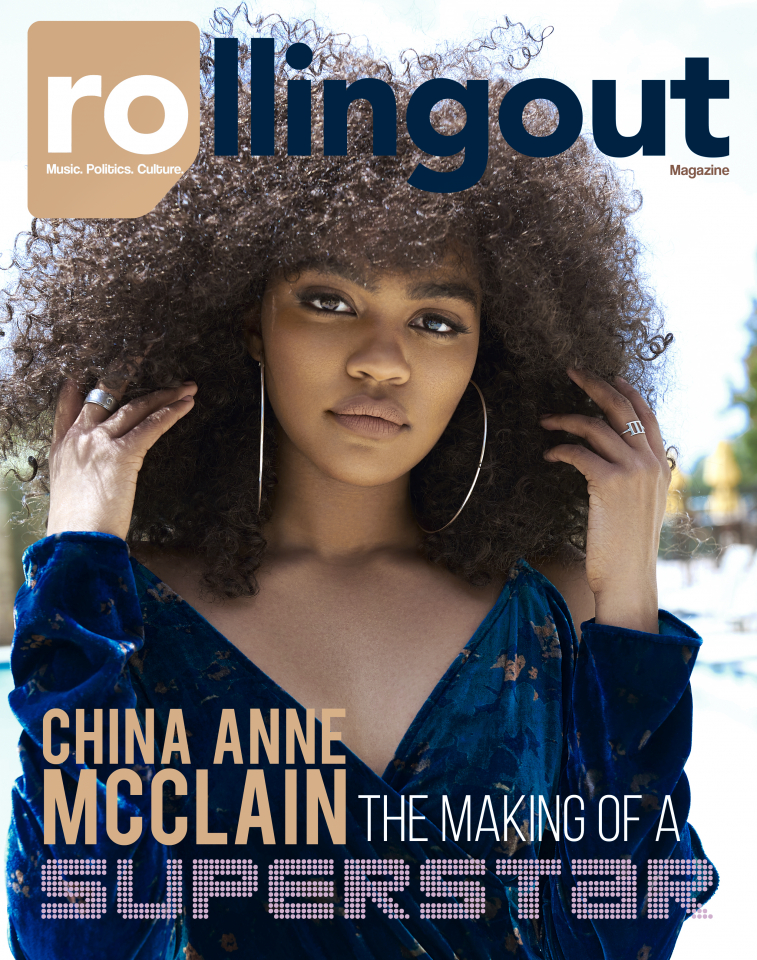 Your parents met while working in the entertainment industry. With it being such an important part of your lives, did you feel pressured to be an entertainer?
Never, because I feel like music and it was always in our house. Actually, our parents didn't want us to do this. They know how hard this industry can be and they didn't really want us to be a part of it. But when I told them that this is really what I want to do for the rest of my life then they supported and protected me.
Have you gotten used to seeing yourself and your sisters on television?
At this point, I've gotten used to seeing myself. It's so strange seeing my siblings because I know them so well. So to see them play somebody totally different, I'm just like it's so cool for me to see because they're all so talented. It's just, I don't know, very different from watching yourself and watching your sibling do it.
"Our parents didn't want us to do this. They know how hard this industry can be and they didn't really want us to be a part of it."
Do you critique yourself and them?
I don't critique them. They can't do wrong in my eyes. No wrong at all. But I could critique myself all the time. I'm my own worst critic for sure.
With so much talent in your household, what's a regular day in your household like? 
Loud! It's very loud. There's six of us not including our dog. So, it's just rowdy. We're all very excited. Especially when we're all around each other. Because recently we haven't had a lot of time to be around each other because we've all been working in different locations.
Who would be in your ultimate squad group?
Kendrick Lamar. Childish Gambino, and SZA.
"I don't critique them. They can't do wrong in my eyes. No wrong at all. But I could critique myself all the time. I'm my own worst critic for sure."
Anyone who would want to be your friend, what should they not be?
This is going to make some people mad, but I can't deal with overbearing type people. I don't like selfish or fake people. I don't like people that when you're talking to them and you can tell that they only want to know how you can help them. Like you know how you're at a party and somebodies like, 'so, what are you working on?' I hate that. But I like loud people. Loud people are fun [laughs].
In "Descendants 2," you play Uma. What do you think are Uma's motives?
I feel Uma just wants to feel important because the four original villain kids were taken off to the Land of the Lost and now they have all of this opportunity and they're doing very well for themselves. And Uma's just like, 'what about me?' And obviously, since Mal was the Queen of the Aisle, when she left Uma's like, 'well she's over there now. I'm going to be the queen of this town. 'And I mean I just feel like she wants to feel important. Poor girl. Just like everybody else. I understand her plight.
Which one of the other characters in Descendants 2 would you want to be for Halloween?
Knowing me, it would probably be one of the boys. It'll probably be my first mate Harry Hook. He's the son of Captain Hook. Just because his outfit is so cool like he has this coat that's really, really long, and it's red and it's kind of ripped up and distressed and it just looks amazing. So if only get that jacket, I will be happy.
So what is "Black Lightning" the new show on CW about?
Black Lightning was one of the very first African American superheroes. So, first, for me, it's just an honor to be a part of a show that is based on this character. And Black Lightning, his superpower is electricity manipulation. He has two daughters. I play Jennifer Pierce. I'm the youngest daughter. And I find out during the course of the show that I have the same superpowers as my father. And for me, I'm just like, "What?" I'm confused because I didn't know out my dad was Black Lightning. So I don't know what's going. So I really like the fact that as the character I get to explore how we feel alienated sometimes. People see superheroes a certain way and they're just like, "They're awesome. I wish I was a superhero," but sometimes we can feel like we don't want to be different. We just want to fit in with everybody else. So I don't know. I'm really excited about that show. It's really gritty. It's kind of dark. It's real. I'm very excited to be a part of it.
Between the characters on "Descendants 2" and "Black Lightning," which character are you most like?
That's a great question. I feel like it's a perfect mix between both Jennifer and Uma. Because Jennifer at the start of the show of Black Lightning is going through a lot of stuff. She's growing into herself. She's getting to know herself. Getting into some trouble and you know I've obviously been through that with my parents. So, I have a little bit of that and the just learning about myself. And then there's the side of Uma that's very like I said determined and willing to do what she needs to do and work as hard as she can to get it. And that's where my, "been-working-since-I-was-5-years-old" side comes in because I take that very seriously. So I feel like it's a mix.
What attributes do you want little girls to emulate when it comes to your characters? 
The determination and the not taking "no" for an answer if you really want something. And working as hard as you can to get it. I think that is a very good message for young girls and I hope that they take that away from the character Uma.