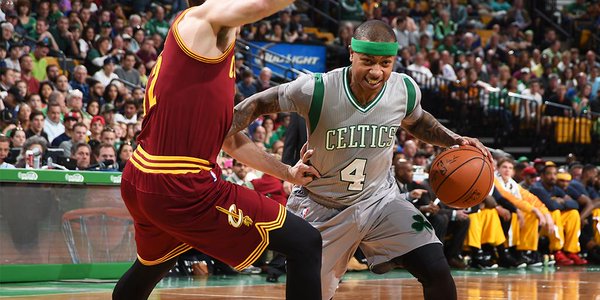 Another NBA star is getting scolded for playing for another team. At least three videos have gone viral of Boston Celtics fans burning Isaiah Thomas' jersey.
Thomas' new teammate, LeBron James, responded to the acts in a series of tweets:
The burning of the jersey thing is getting ridiculous now! The man was traded. What do u not understand? & played in a game after …..

— LeBron James (@KingJames) August 24, 2017
sister tragic death. Gordon Hayward paid he's dues as well and decided to do what's best for him and family. Put in the work, got better….

— LeBron James (@KingJames) August 24, 2017
Became an All-Star, etc!! If these guys weren't good, u guys would be the first to say "get them up out of here". Man beat it! When "we"….

— LeBron James (@KingJames) August 24, 2017
decide to do what best for us it's "cowardly" "traitor", etc but when it's on the other side it's "business" huh!?!? Ooh ok. Man do…..

— LeBron James (@KingJames) August 24, 2017
what u feel is best for your profession, love, family, happiness and continue to #StriveForGreatness🚀 #Salute

— LeBron James (@KingJames) August 24, 2017
The videos of the burning have since been deleted.
James changed the way star athletes maneuver in professional sports in 2010. With his decision to join the Miami Heat on live national television, he showed that even the top players control their destiny and not the franchises they play for. James currently has the Cavaliers preparing for the "what if" in case he decides to leave the team again in the 2018 offseason. It's a relatively fresh concept that the top-three players on the planet would sign with teams with other superstars, as Kevin Durant did last summer with the Golden State Warriors. Fans don't know how to adjust. So in the heat of their initial frustration and confusion of having someone that became a part of their life unexpectedly leave, they turn to anger and burn the player's jersey. The burning represents the absolute end of the fan-to-player relationship; although, many Cavaliers fans just bought new James jerseys when he returned to Cleveland in 2014.
These next few years, fans will continue to burn jerseys, because they won't know how else to handle their hurt. The symbolic act of burning a jersey has become the equivalent to ranting to a group of friends about an ex: it may help release the toxic issues one is holding on to, but it doesn't affect the other party at all.
It doesn't make sense the way a lot of fans choose to grieve the loss of a favorite player but understand this new era of multiple superstars changing teams at the same time is only seven years old in the NBA. While Dennis Rodman, Moses Malone, and Charles Barkley changed teams in their primes, they all didn't do it in the same offseason. In the last two years, Durant, Paul George, Gordon Hayward, DeMarcus Cousins, Dwyane Wade, Jimmy Butler, Rajon Rondo, Dwight Howard, Paul Millsap, Al Horford, Derrick Rose, Chris Paul, Kyrie Irving, and Thomas have all changed teams. This shift of All-Stars experiencing change may eventually become a norm to previously grieving fans, but then again some individuals never handle change well.