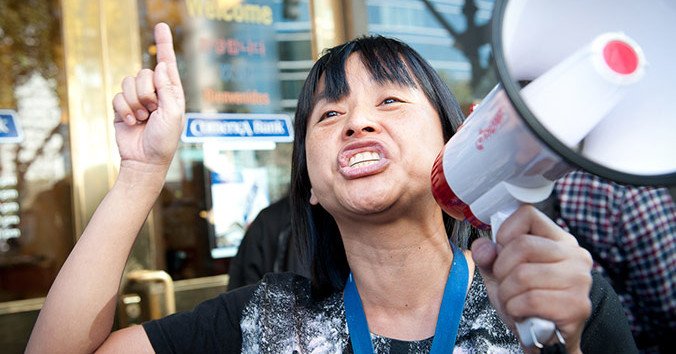 A petite middle school teacher in Berkeley, California was charged with a felony for punching a White nationalist during a demonstration last year, but she claims she was acting in self-defense.
Yvette Felarca, who teaches humanities at Martin Luther King Jr Middle School, was arrested last month for allegedly punching a man during a far-right rally in Sacramento in June 2016, CBS reported.
Felarca, 47, was charged with felony assault by means of force likely to inflict great bodily injury, and two misdemeanor counts of inciting and participating in a riot.
In video footage of the confrontation, Felarca can be seen bumping up against a member of the Traditionalist Worker Party, a White nationalist group that is "intimately allied with neo-Nazi and other hardline racist organizations," according to the Southern Poverty Law Center.
Felarca appears to punch the man in the abdomen, and yells, "Get the f— out of our streets," according to Berkleyside.
Others jumped in and tried to grab a pole out of the man's hands before dragging him to the ground and kicking him.
An eight-month investigation into the rally led to Felarca's arrest, although she called for the charges to be dropped during her arraignment in July.
The city of Berkeley has been tied to left-wing protests and counterculture activity for many decades. UC-Berkeley is the flagship college within the University of California system (that includes UCLA) and has been associated with major anti-war demonstrations and extremely sympathetic feelings towards revolutionary groups, including the Black Panther Party, in the 1960s. The city, which is within the Bay Area and just outside the city of Oakland, has remained liberal and left-wing. The city and college have been known to be somewhat hostile towards right-wing personalities and White supremacists and has a reputation as being more liberal, tolerant and open to diversity than its sister city, San Francisco.