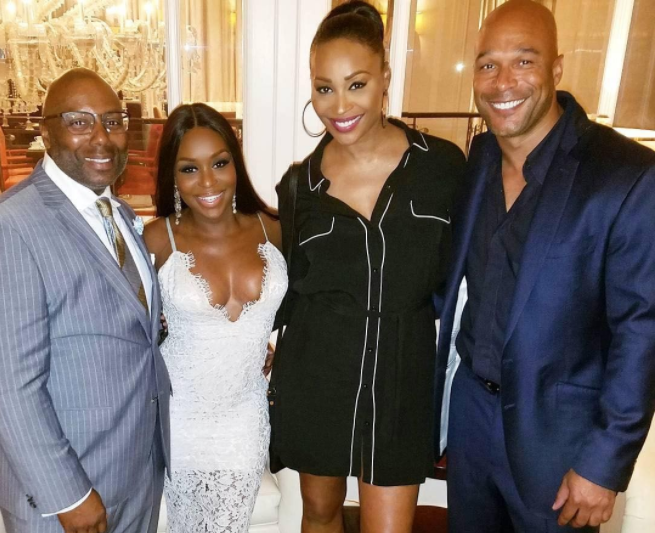 Cynthia Bailey's ex-husband Peter Thomas isn't the only one moving on with her life after her divorce from her longtime man. The "Real Housewives of Atlanta" star reportedly has a new man, and women are going crazy over him.
The streets are talking about Bailey's new man, and word so far seems very promising: his name is Will Jones, and he's reportedly a motivational speaker and entrepreneur who has appeared on "The Steve Harvey Show." Jones is also close with Atlanta mayoral candidate Michael Sterling, who is dating Bailey's new co-star Eva Marcille, so that's convenient from a show point of view.
The pair was all smiles aboard a yacht in the selfie, posted Monday. Bailey, 50, also alluded to a new love in a snapshot of her strutting down a dock, writing, "He's got me feeling pretty special."
Bailey and Thomas separated in 2016 and divorced last March, remaining open about their marital troubles on the Bravo reality show. Despite their split, the two remain friends.
"I'm really pleased with the way we handled our divorce," Bailey told People. "I did not want to be mean, or ugly, or ratchet about it. I chose to be in my marriage. I was happy for many years in my marriage and a lot of great things came out of my marriage. I'm good, we're good."
"I'm in a great place in my life," she recently gave an update to "The Daily Dish" (clip above). "I just turned 50, and I am really channeling my inner vixen."
Bailey is expected to return for The Real Housewives of Atlanta's 10th season, which will premiere on Bravo this fall.