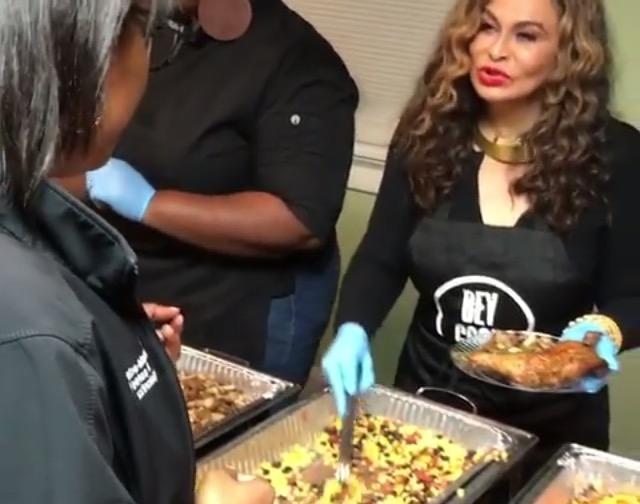 Tina Knowles Lawson and her family join forces to give back to Houston.
On Friday, Sept. 8, Beyonce's mom chopped it up with "ET," at St. Johns Church in Houston, where she, her daughter and Destiny's Child alum Michelle Williams, provided aid to residents affected by Hurricane Harvey.
"We do special things in the community, feed the homeless, we have housing, which houses people," said Knowles Lawson. "[Pastor] Rudy [Rasmus] has just been a beacon of light to the community. He just does everything for everybody. So this is the place.
"It's so sentimental seeing Beyoncé here because she hadn't been able to come for a long time, She started singing on this stage, so it's real[ly] emotional."
Earlier in the day, Knowles Lawson and Williams continued in their relief efforts by serving 400 flood victims while wearing aprons bearing the logo BeyGOOD — representing Bey's charity initiative. It was an emotional day for both victims and all those who came together to lend a helping hand. "You know, it's just, this is a celebration that we're still here, not a sad event," shared Knowles Larson . "It's a celebration of survival. Survival."
Beyoncé falando hoje para os sobreviventes de #Harvey em Houston. 💙 #BeyGOOD pic.twitter.com/DJCXZNYqKD

— Beyoncé No Brasil (@beynobrasil) September 8, 2017
Later in the day, Bey delivered a message of hope to Houston residents impacted by Hurricane Harvey.
"This today is a celebration of survival," she said while taking the stage at St. John's Church in Houston on Friday.
"This church is my home," she told attendees. "I was maybe nine or 10-years-old the first time I sat there where my daughter is sitting. I sang my first solo here and I just wanna thank you for lifting my family up, for praying for me, and for being such an incredible example of what light and love [are]."
Referring to the congregation as her "family," the mother of three added, "Houston is my home. I thank God that you're safe, your children are safe … I just wanna say I love you. I've been blessed so that I can bless other people and I ask God to continue to do that for other people."
"My heart goes out to my hometown, Houston, and I remain in constant prayer for those affected and for the rescuers who have been so brave and determined to do so much to help," Beyoncé continued in a statement to The Houston Chronicle.