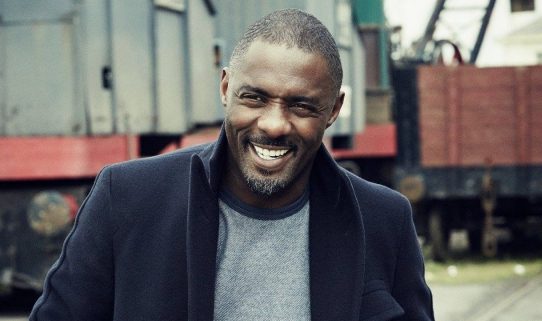 Idris Elba's got a new girl.
On Sunday, the actor stepped out with his "beautiful girlfriend," Sabrina Dhowre at the Toronto International Film Festival premiere for his latest film, The Mountain Between Us.
"This is my beautiful girlfriend," the 45-year-old British hearthrob told Canada's etalk on the red carpet.
.@IdrisElba and Sabrina Dhowre are all smiles on the red carpet at #TIFF17. #MountainBetweenUs pic.twitter.com/Gh1HIvgjX9

— Mountain Between (@MountainBetween) September 10, 2017
Dressed in a black floor length gown, white open toe heels and slicked back hair, Dhowre was the epitome of glam, perfectly complementing Elba's classic slate blue suit (and scruff). Looking good, you two.
While the details surrounding Elba's newfound love are slim, here's everything you need to know:
She's a former beauty queen…
Dhowre, 29, is of Somali descent and was crowned Miss Vancouver in 2014.
She had him at hello…
"I met her during the filiming of The Mountain Between Us," Elba told the outlet of the 29-year-old Canadian beauty.
Meanwhile, Page Six, reports that the duo have been together for seven months now. Considering the Dark Tower star's notoriously silent stand on his personal life, this relationship could be a serious one. "It's believed Idris and Sabrina have been dating for around seven months," the source said. "They're having a great time getting to know each other and Idris feels strongly enough about Sabrina for them to be talked about in public. Having her on his arm on a red carpet shows how serious he is about her as he doesn't do these things lightly. He usually likes to keep that side of his life private but he's proud to show Sabrina off on his arm. It's been a different story for Sabrina, who has uploaded several pictures of Idris to her Snapchat account."
She's super private…
If you're looking to follow her on Instagram, good luck. While you can view hot pics of the model, the accounts aren't actually hers. However, you can catch her in real time over on Snapchat. Still, stories appear to be far and few in-between.
As fans know far too well, Elba hasn't been all that lucky in love. In 2014, the actor welcomed a son with then-girlfriend Naiyana Garth. However, the pair split shortly thereafter. In 1999, Elba got hitched to makeup artist Hanne Norgaard but after just four years, in 2003, the couple went their separate ways. Elba and Norgaard share a daughter, Isan, who is 15. Again, in 2006 Elba wed lawyer Sonya Hamlin. Their union lasted about six months.
What are your thoughts on Elba dating a woman 16 years younger than him? Sound off in the comment section below.