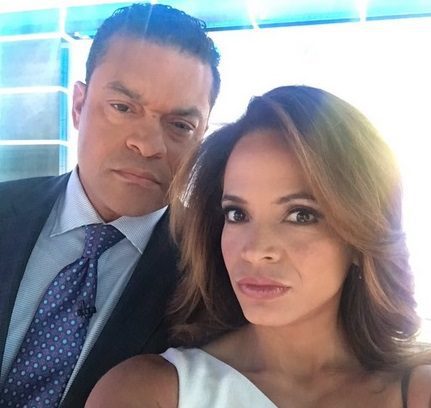 Despite being the subject of one of the biggest stories in the country, Jemele Hill still co-anchored "SportsCenter" with Michael Smith on Sept. 13. However, ThinkProgress reported that two sources close to the situation said ESPN tried to keep Hill off the air hours before the show. Co-host Michael Smith refused to do the show without Hill, according to the report.
The network then asked the Black weekend duo of Michael Eaves and Elle Duncan to fill-in for Smith and Hill. Both Eaves and Duncan declined, according to the report. With 19 minutes to go until the show came on, Smith responded with this to a fan on Twitter asking if he and Hill were still going to be on the air that day:
hell yeah, f—in right! see you at 6 https://t.co/Wm9GcdWskX

— Michael Smith (@michaelsmith) September 13, 2017
ESPN has since denied ThinkProgress' report.
Our statement: "We never asked any other anchors to do last night's show. Period." https://t.co/EJhnjbr7yq

— Chris LaPlaca (@espn_chris) September 14, 2017
Both the writer, Lindsay Gibbs, and editor who promoted the piece, Judd Legum, stood by the report after the network's statement.
We stand by our reporting 100%. https://t.co/TYtaA0aTtZ

— Judd Legum (@JuddLegum) September 15, 2017
In fairness, ESPN's initial statement not supporting Hill's tweet was valid. Within the same week that it was announced that Michelle Beadle was replacing Sage Steele on "NBA Countdown," the network issued its employees a new policy in regard to expressing political views.
"The presentation should be thoughtful and respectful," the policy states. "We should avoid personal attacks and inflammatory rhetoric."
Whether or not there are facts to back Hill's statement up, calling the president of the United States a "White supremacist" and the most "ignorant" president of your lifetime can easily be seen as personal attacks against the president of the United States. If critics want to point out the policy when reporters like Steele express views, the same policies need to be pointed out for the views that mirror Hill's.
After White House Press Secretary Sarah Huckabee called for ESPN to fire Hill altogether, five ESPN employees and fellow members of the National Association of Black Journalists Sports Task Force paid Hill a visit.
Love that my @NABJSports brothers came to check on me pic.twitter.com/a02nKHYmjK

— Jemele Hill (@jemelehill) September 14, 2017
Fellow Task Force member and USA Today reporter Jessie Karangu then began a Twitter moment where NABJ showed its support for Hill:
https://twitter.com/JMKTV/status/908468114932760576