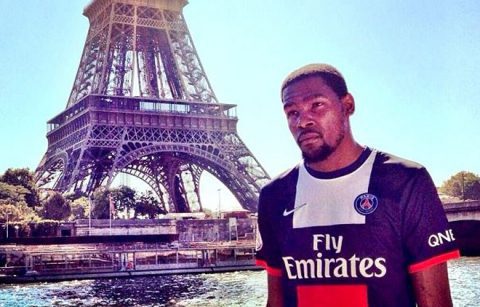 Kanye West's 2004 hit "All Falls Down" put a spotlight on how self-conscious famous people are. Yesterday, perhaps some of Kevin Durant's inner thoughts were brought to the surface. This off-season should've been the best summer of his basketball life. He just won his first NBA championship and Finals MVP, but he remains the target of disrespect. A top-three player in the world went to a team with another top-three player that just set the league record for most wins in an NBA season, so fans constantly heckle him about taking the "easy route" per se to a win in his career.
The jokes aren't limited to the fans, either. Peyton Manning told a joke about Durant's decision to join the Golden State Warriors in his opening monologue of this year's ESPYs.
"Nobody cares about what I want as a person," Durant said in a 2016 interview on "Any Given Wednesday with Bill Simmons." "It's all about what I can do on a basketball court. They don't care if I like going fishing on Tuesdays or like taking pictures on the street. Nobody cares, as long as I can shoot that ball into a hoop. Why should I care what they think, if they don't care about me as a whole?"
He recently released his new Nike shoe with the most common insults thrown at him on the soles.
Kevin Durant's new shoe the KD 10 "Finals" edition have KD literally stepping on his haters 👀 pic.twitter.com/56XX6nVAzg

— On The Bleachers NBA (@OTBNBA) September 12, 2017
Less than a week later, speculation of Durant using a fake Twitter account to defend himself in comments began after he forgot to switch accounts.
https://twitter.com/barstoolsports/status/909773195573686275
After the news detailing more reasons he left the Thunder emerged, the NBA page on Reddit found out that he also had a secret Instagram account where he relentlessly engaged in insult exchanges over users disrespecting him.
and yes, if this is KD's secret instagram, he has argued at people with it. (the "quiresultan" user name is supposedly him.) pic.twitter.com/3cYEVf788e

— tim cato (@tim_cato) September 18, 2017
No matter how much he says he doesn't care or doesn't want to care, Durant cares. Just like any other human being. Celebrities are the biggest targets for online hate and many of them claim to ignore it and move on with their life, but no one wants to be disliked. President Donald Trump has seemingly responded to every negative comment about him that has received national attention on his Twitter page. Music artists dedicate multiple tracks on projects dissing the people who diss them nowadays. In by far the biggest hit of her music career, Cardi B raps about how she fixed her teeth when she got enough money to afford it. Many celebrities admit to getting plastic surgery due to constantly being in the limelight and desiring to hide their flaws.
Perhaps the imperfections of people are magnified with a greater amount of attention to them. In simpler terms, maybe celebrities are the most insecure people in society.