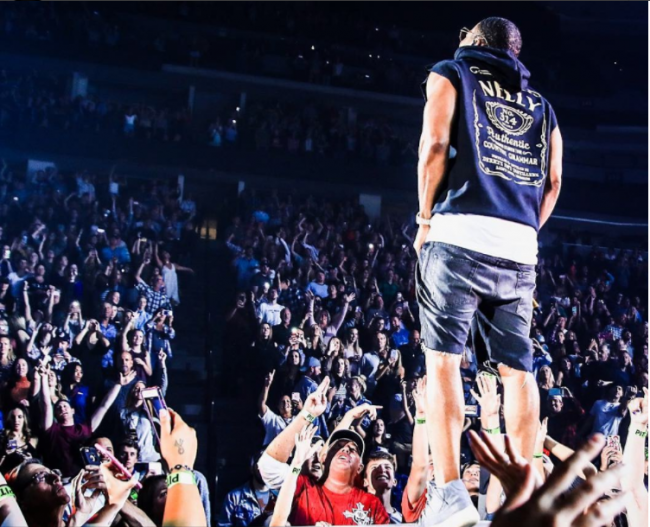 Nelly has been on Black women's Most Wanted List ever since the St. Louis-based rapper slid a credit card down a woman's backside in the infamous "Tip Drill" video about a decade ago. And his behavior that was captured on video recently may vault him to the top of that list.
Fans have begun posting videos of Nelly in concert performing with girls who appear to be in elementary school. To make the matter worse, Nelly is videotaped twirling the girls' hair.
The postings started right after Nelly, born Cornell Haynes Jr., was arrested this past Saturday in Washington state after a woman told police he raped her on his tour bus. Police took Nelly into custody in the early morning and took him to a jail in Des Moines, Washington on suspicion of rape in the second-degree. He would later be released without any charges being filed.
Nelly may be cleared in the rape case, but this concert footage below presents a real PR nightmare, and Black Twitter was quick to point that out. Take a look:
Me if I was at that Nelly concert pic.twitter.com/eH2zKxpSP2

— Nicolás Madurag (@QGotNoRings) October 7, 2017
Nelly can't explain this behavior to me. She's 8-years-old. pic.twitter.com/DTCMh9KZqT

— Ferrari Sheppard (@stopbeingfamous) October 9, 2017
Even with Nelly cleared of rape charges I still have questions about him playing in little girls hair at concerts

— Aaron Lamar (@everydayaaron) October 8, 2017
Even with Nelly cleared of rape charges I still have questions about him playing in little girls hair at concerts

— Aaron Lamar (@everydayaaron) October 8, 2017
Why is there a little white girl at Nelly's concert anyway …who are her parents ?? pic.twitter.com/u8M3fNg0qY

— 👑 (@shadymisslexi) October 7, 2017
That little girl should Not have been at a Nelly concert to begin with..
&&No at the age of 28 Nelly would not have be playing in my hair

— Leash❣️🛫 (@Aa_LuXurieeee) October 9, 2017
That little girl should Not have been at a Nelly concert to begin with..
&&No at the age of 28 Nelly would not have be playing in my hair

— Leash❣️🛫 (@Aa_LuXurieeee) October 9, 2017
sooooooo did yall see the video of nelly performing over and over again to the extremely young girl while touching her hair before the rape?

— yo delilah my guy (@pinksostuckup) October 7, 2017
Yeah also Nelly is real stupid too.. wtf is he doing on stage to the girl , saw the video , he's done for.. that alone is trouble

— Aaron Jones/Rodgers (@LSilentN) October 7, 2017