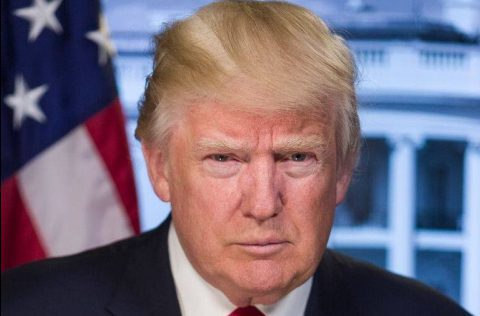 President Trump told Fox News' Sean Hannity on Wednesday that minorities "want" and "need" more police protection than other Americans. He went on to blame Democrats for the "crazy" number of murders in Chicago and other major metropolises.
Interestingly enough, Trump did not offer any solutions to the upward spiral in homicides, nor did he address the reasons why the murder rate in the nation's third largest city is out of control.
Of course, Trump was happy to do the interview with Fox because he was the recipient of "soft" questions from Hannity, who just so happens to be a friend and "informal" adviser to the president. Therefore, objective Americans can even question whether this was even an interview at all — or just a platform for Trump to rant and dump on African Americans (in particular) without offering any viable solutions and to give police carte blanche in operating in minority neighborhoods.
During the interview, Trump said police in big cities are "not allowed" to respond to what he described as rampant crime because "they have to be politically correct."
"Minorities want police protection more than anybody," Trump said to Hannity. "They need it more than anybody. What's going on is crazy. And you look at some of these inner cities where it's just out of control."
Trump's comments come as former San Francisco 49ers quarterback Colin Kaepernick and other NFL players have protested during the national anthem to illuminate chronic police brutality and racial injustices against blacks.
As expected, Trump did not (and cannot) address the reasons the players are kneeling.
"We have incredible police in this country," Trump said. "They could stop [crime] if they were allowed to do their jobs. … In many cases, it's the police are not allowed to do their job. They have to be politically correct."
Trump laughably blamed Democrats for the exorbitantly high murder rates. "Don't forget, the Democrats have ruled the inner cities for 100 years," he said. "This is their rule."
Also during the interview, Trump gave barely coherent answers to questions about the following subjects:
Economic policy: he tried to connect the surge in the stock market since his election to the growing federal debt, which recently passed $20 trillion.
"The country — we took it over and owed over $20 trillion," Trump said. "As you know, the last eight years, they borrowed more than it did in the whole history of our country. So they borrowed more than $10 trillion, right? And yet, we picked up $5.2 trillion just in the stock market. … So you could say, in one sense, we're really increasing values. And maybe in a sense, we're reducing debt. But we're very honored by it. And we're very, very happy."
Nevermind that the debt has actually grown under Trump because "spending has increased and people have cut back on paying certain taxes compared to expectations," the Washington Post reports.
Tax-cut plan: he said his administration's plan will lead to a massive reduction in taxes for the middle class, but the Post writes that there no evidence of this. Not surprisingly, the nonpartisan Tax Policy Center states, according to the Post, that middle-income earners "would get a slight tax break, but the real benefits would flow to the wealthiest Americans who are in the top 1 percent of households."
The Post also pointed out that Trump tried to deny in the Fox interview that the wealthy would beneficiaries of a tax break. The president said people in California, New York and Illinois would "no longer be able to deduct their state taxes from their federal taxable income." The paper pointed out there are so many rich people who reside many other states, such as Florida. Those millionaires would not be as impacted by Trump's truncated, preposterous restriction plan.