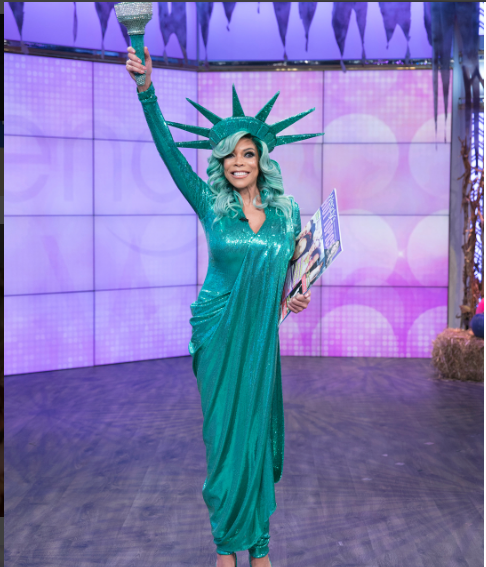 Wendy Williams' fainting spell on her eponymous show has created such a national spectacle — and the video went viral almost instantaneously — that she was even invited on "Good Morning America" on Friday to explain in more detail what caused her to pass out on live television.
Many had assumed it was a case of overheating in her Statue of Liberty Halloween costume combined with dehydration.
"I got hot," Williams told ABC News' Amy Robach of what caused her tumble Tuesday. "I was dehydrated according to the paramedics."
She added, "I'm a woman of a particular age. I'm also going through menopause."
Williams, 53, said she told herself to do two things after realizing she was about to faint.
"Fall pretty, cause this will never happen again, and go down with the crown," she said half-facetiously. "For people watching, when they saw me, you know, put my hand up, it's 'cause I'm trying to make sure my crown is there.
"It was a beautiful fall. Unfortunately, we went to commercial, so nobody saw it."
"I was more concerned with when I fall, am I going to crack my skull? And the crew and the security here thought that the bug-eyed look I gave was part of a stunt, 'cause I'm always doing tricks."
Williams' crew thought she was performing a trick or skit, therefore "nobody came out until I hit the ground."
"Then, oh my gosh, chaos ensued," Williams said. "The studio audience went wild. I fell with the crown. But I fell … booty first, then rolled onto my back, and then clunked my head on the floor."
The former radio show personality said she consulted with her physician and everything checked out, saying, "I'm fine, including blood work."
"I have no pain," she added. "My head doesn't hurt. I don't have a lump on my head. I never got one headache."
Williams added she was humbled and grateful for the support she got friends and fans of her show.
"More people were concerned about me than I actually thought that they would be," she said, thanking her supporters for the "flowers and the well wishes."
Williams, who boasts that she hasn't missed a single day during her nine seasons on the air, isn't about to now, so she will be in on Monday. She is also getting ready to celebrate the milestone 1,500th episode of her show on Nov. 13.
"That's why I got up off the floor and came out here and closed out the show," she said. "You're only as good as your last performance."