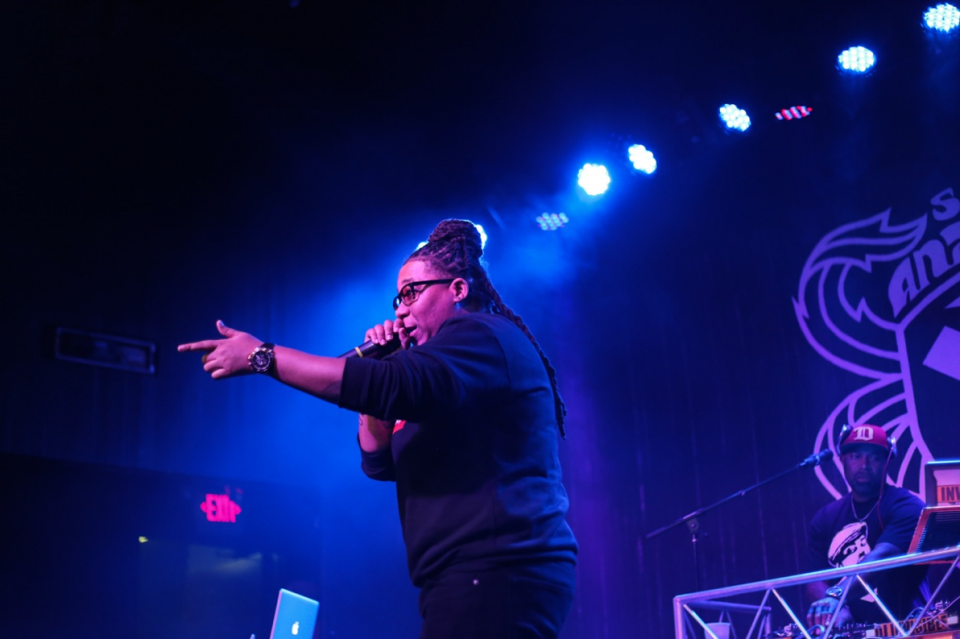 This year marks the 15th anniversary of the Eminem-helmed film 8 Mile. Stars from the movie recently gathered to celebrate in Detroit. It was only fitting to have underground emcee Miz Korona perform at the after-party held on Thursday, Nov. 9. Miz Korona made her movie debut in 8 Mile. Showing why she stands out, she unleashed flames onstage, with her newly released single "Set Fire." Rolling out was able to catch up with her right before her performance for an exclusive interview.
How does it feel to be celebrating your movie debut in 8 Mile 15 years later?
It has not clicked just yet. I am still trying to process everything and I am living in the moment.  I am really focused on doing my thing on stage. I am honored that they reached out to me to grace the stage tonight. The  stage is my second home, but I'm also celebrating my movie debut.
Talk a little about how it felt to work alongside Eminem.
I was nervous, initially. Imagine walking into the room, and it's a read. But you're thinking you are coming to a second audition, but you are really coming to a read. Brittany Murphy is walking out the room, my favorite actress at the time. Eminem is sitting at the table with the directors. I never knew what I was going to do initially. … So I am still so thankful for that opportunity.
Who else would you like to work with? Who do you look to for inspiration musically?
I would love to work with Bahamadia. She is also my musical inspiration. I would love to work with Jean Grae. Lil Kim, she is also one of my top picks; of course, Jay-Z. I would love to do a record with Eminem and definitely MC Lyte.
Being a female emcee in a male-dominated arena, how do you navigate that and still hold true to who you are as a female artist?
I have to be a force and have that confidence. I can't be pushed around. Big Proof taught me to not allow people to intimidate me and don't give others the chance to intimidate me because I'm a girl. I have a lot to fight through because I am a woman in a male-dominated field. I don't look at other females emcees as competition, I look to them for inspiration. I look at these guys and know where the bar is. I need to step it up. I understand that I need to put music out that can compete with Kendrick Lamar, for example, and if it doesn't hold to that bar, I know I have to go back and work on it.
What do you tell young ladies who look up to you and want to follow in your footsteps?
I tell them to be themselves. I have had to fight with labels in regard to my appearance and them wanting me to be more sexed up. Even when I was younger, labels were checking for me and wanted me to change my image. Once you compromise yourself internally there is no turning back from that. Also, I would tell them to do not ever rush the growth within yourself. You have to find yourself daily. I grow daily as an adult. But I know had I compromised myself I wouldn't be at this movie debut or even having this interview. Never compromise your integrity. Just keep pushing.
What are you currently working on and what can fans expect from Miz Corona in 2018?
In 2018, I am releasing a new project, be on the lookout for that. I dropped a new single on Fox 2 News this week called "Set Fire." I have a show at the DIA, Dec. 15 at 7 p.m. So come out, show love and this will be the introduction to what Korona has in store for the future.