Colin Kaepernick on Muhammad Ali, peaceful protests, and race in America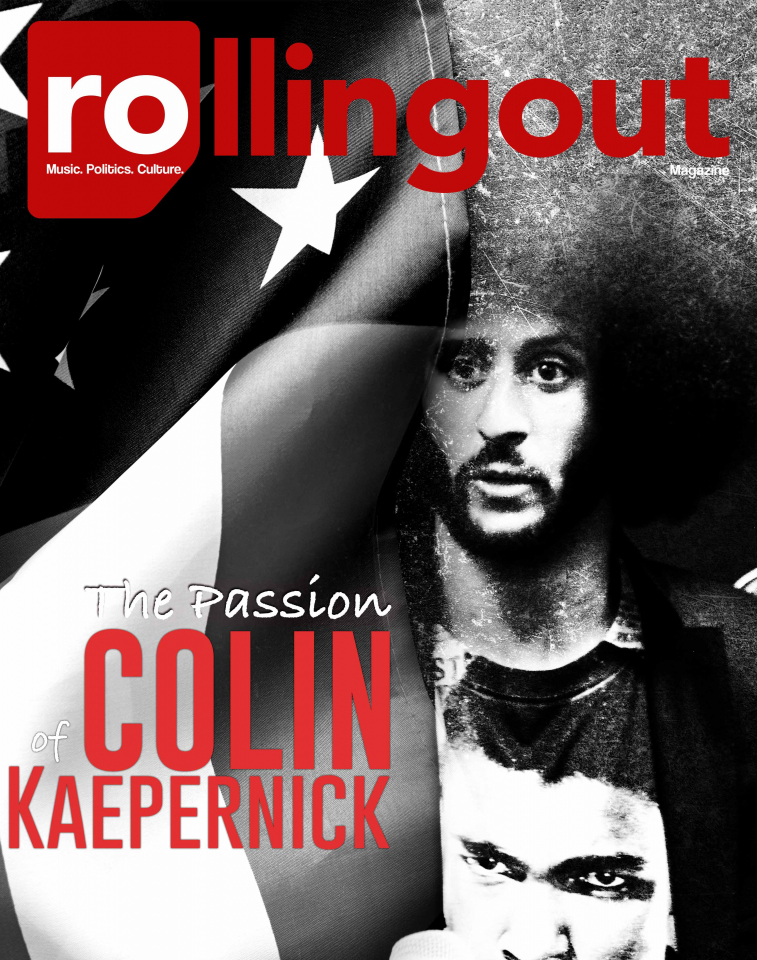 In the footsteps of Muhammad Ali 
The leaves in Orchard Park, New York, had recently embraced autumn, producing brown and gold hues that signify the change of season. Noticing them on a Sunday afternoon in mid-October 2016, I too found myself in the midst of witnessing another kind of evolution, one far less quiet and expected: an athlete had become a symbol of change for a nation and a generation. I was on my way to a press conference held by NFL player Colin Kaepernick.
Not long before, Kaepernick took the field for the San Francisco 49ers as the team faced off against the Buffalo Bills. The reactions at New ERA Stadium were mixed as some fans cheered and others booed once Kaepernick was announced as the starter for the first time during the 2016 season. The actual game never really mattered. Both teams were at or near the basement of their respective divisions. However, Kaepernick's mere presence made the game mean more than any matchup between top-tier NFL teams or rivals that year.
The singing of the national anthem began. Kaepernick kneeled. The world watched. The most powerful statement in this era of sports had been made.
Following the game, Kaepernick entered the team's press conference dressed in all black, his Afro standing strong, and sporting a shirt that featured an image of the late, great Muhammad Ali. After a few reporters asked him routine questions about his performance on the field, I asked him about his decision to wear a shirt featuring an athlete whose greatness was primarily defined by what he did outside the realm of sports.
"I wore the [Muhammad] Ali shirt to pay homage," Kaepernick told me during the press conference. "He fought a very similar fight and we are trying to do what's right for the people. To be able to have someone like that come before me is huge. He paved the way for many. People remember Ali for his stance on social justice more than they remember him for boxing. I can't let him die in vain. I have to carry on and fight the same fight until we accomplish our goal."
To Kaepernick's point, during a time when Black pro athletes were discouraged from activism in exchange for fame and wealth, Ali risked his career and livelihood to stand up for his beliefs. His refusal to be drafted into the Vietnam War nearly led to him serving time in prison, but it ultimately caused him to lose his boxing license in America for three years. Some couldn't believe a Black man would have the audacity to, in their opinion,
"disrespect" the American troops, flag, and the country as a whole. For many conservatives and those in the mainstream media, Ali was viewed as the most hated Black man in the nation.
Kaepernick is facing the same fury and vitriol for kneeling to bring attention to the ongoing and growing violence perpetrated against Black bodies by law enforcement and racist Whites.
"I think the message carries weight because people realize what's going on," Kaepernick said at the press conference. "It's something that needs to be addressed. People's lives are being taken and affected by this on a daily basis. More and more conversations are happening that need to happen. It is important to address the issue and create change."
Race, sports and politics in the Trump era
The hate spewed in a speech given to an audience in Huntsville, Alabama, who hung on to every word: the 45th president of the United States of America relishes these moments. More than actually establishing worthy legislation and seeking ways to improve the lives of citizens, President Donald Trump seems to find his self-worth and vitality within his base. It's a base that is majority White and majority male. They empower Trump to speak on their behalf. In turn, he's empowered to spread rhetoric that will appease their twisted views about race and American culture. Trump's base-driven speeches are often filled with divisiveness, racism and, at times, are irrational and nonsensical. Trump gives them what they want. Trump gives them what they need.
On Sept. 22, 2017, Trump went from stumping for Republican Senate candidate Luther Strange to stomping on Kaepernick's message and every athlete who chose to take a stand by kneeling during the national anthem.
"Wouldn't you love to see one of these NFL owners, when somebody disrespects our flag, say, 'Get that son of a b—- off the field right now. Out, you're fired,' " Trump said that day before the crowd in Huntsville.
Many viewed his words as racist, hateful, misogynistic and disrespectful. Still, White House press secretary Sarah Huckabee Sanders defended his statement saying, "I think it's always appropriate for the president of the United States to defend our flag, to defend the national anthem and to defend the men and women who fought and died to defend it."
It was a false statement, as American troops are not defending the flag or national anthem; they are defending the U.S. Constitution. To add, in the Supreme Court decision West Virginia State Board of Education v. Barnette, it ruled that the Free Speech Clause of the First Amendment protected citizens from being forced to salute the American flag or say the Pledge of Allegiance.
In spite of the clear disconnect between his administration's words and historical facts, Trump continued to rant. Following his speech, he dedicated nearly 20 tweets to the NFL and players who kneel during the national anthem. He even took a shot at Golden State Warriors guard Steph Curry because he allegedly refuses to visit the White House during Trump's tenure.
In the end, it appeared Trump embraced the chaos and dysfunction he caused. It's become a theme of sorts within his office, as chaos reigns within most facets of his world: his family, the White House, national issues and international affairs. True to form, within one day, Trump created chaos in the NFL and the world of sports.
Kneeling for good vs. standing against Trump
In what initially appeared to be a show of unity against Trump's words, the NFL responded immediately. NFL commissioner Roger Goodell condemned Trump's speech and most of the NFL owners wrote statements against Trump. On Sept. 24, every NFL team found ways to show unity by either locking arms during the national anthem or kneeling.
During the "Monday Night Football" game, the Dallas Cowboys and their owner Jerry Jones kneeled on the field before the national anthem.
The show of unity could be viewed as an impactful statement by the league. However, it could be difficult to determine if the owners were kneeling for the racial injustices that take place in America, or if it was just a stance against Trump.
In a sense, the owners are practicing what Trump has preached. Kaepernick has been blackballed for taking a stand against racial violence by kneeling during the national anthem. The owners continued to ignore and dismiss Kaepernick with the hope that a controversy could be avoided without him on the field. But their failure to properly address why Kaepernick was not given an opportunity has come back to haunt them.
Trump's hateful views added words to exemplify the NFL owners' hateful actions. He was able to express their actions in a way that forced them to finally address the one thing that all of them wanted to avoid because the owners don't want to appear divisive while operating in a business that leans heavily on inclusion. The NFL owners are seeking to protect their investment by locking arms with players and putting on an appearance that would suggest that they care.
But if they really wanted to live by their actions, they wouldn't need to put on a show to prove that they are against Trump's words. They all had the ability to sign Kaepernick, but they passed on the opportunity. After realizing that he would not be signed by an NFL team, Kaepernick sued the NFL for collusion. The case is still pending.
Bigger than the game 
In the summer of 2016, Kaepernick decided to sit. It was a brutal summer where several unarmed Blacks had been killed by police and their extrajudicial executions were caught on video. Alton Sterling and Philando Castile were two names that gained national attention. I covered the protests of Sterling's death in Baton Rouge, Louisiana. Even without crime, it's a city where the racial disparities can suck the life out of Black lives.
Kaepernick began to protest silently by sitting during the national anthem as the 49ers played in the preseason. During the third game of the preseason, a reporter noticed Kaepernick sitting and it soon became a national story. Kaepernick became the inspiration for other players around the league who wanted to take a stand. College, high school, and little league athletes soon followed his lead. The hashtag #takeaknee has remained viral for over a year.
And Kaepernick has also done more than kneel. He pledged to donate $1M to charity. Some of the organizations to receive funds include 100 Suits for 100 Men, Lower Eastside Girls Club and J. Cole's Dreamville Foundation.
At this point, Kaepernick will never have to play another down in the NFL. His legacy is already solidified. Muhammad Ali would be proud.
Kaepernick's statements remain true today.
"I think people are beginning to realize what's going on," Kaepernick said during his press conference on that fall afternoon in Orchard Park. "I knew the consequences for what could come with this, and I was prepared for that … I don't understand what's un-American about fighting for liberty and justice for everybody. This country says it stands for equality. I see it as very patriotic and American to [hold] the United States to a standard that it says it lives by."
Story and image by A.R. Shaw