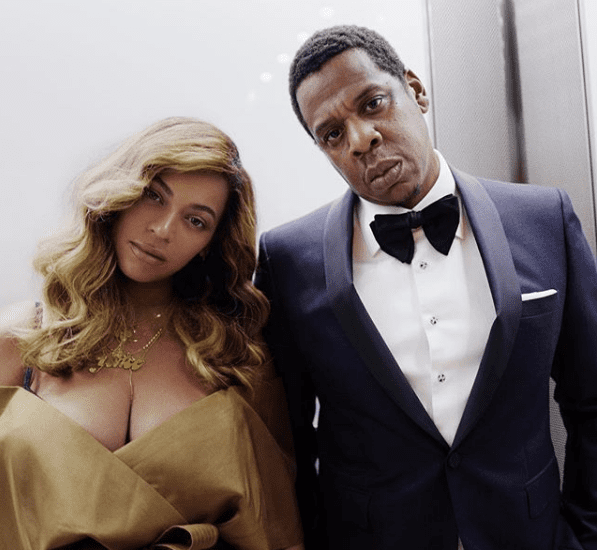 Rap savant Kanye West can be, shall we say, a little temperamental sometimes. And he is particularly sensitive about how his wife, Kim Kardashian, is perceived and treated.
That said, Yeezy has had enough off the "stiff-arm" treatment that Kardashian has received from music royalty Beyoncé and, to a lesser extent, her husband Jay-Z. More specifically, according to Celebrity Insider, West is irate by the lack of respect that his former friends have for his wife.
An insider told the publication that Kanye goes "nuts" thinking about the fact that Queen Bey feels that she is far more talented and is superior to Kardashian.
This issue is really coming to light now because of the fact that Bey and Jay skipped out on Kanye and Kim K.'s wedding a few years ago – even though their names were engraved into their designated table — yet Beyoncé was able to go to Serena Williams' wedding recently. 
The source stated, "It drives Kanye insane that Beyoncé treats Kim like she is inferior and not worthy of her friendship; it infuriates him. Kanye is fiercely protective of his family and feels that by dissing Kim, he is being dissed, too."
The family friend said West, contrary to many people, is proud of Kardashian's accomplishments and wished Jay-Z and Beyoncé would recognize that she is a great mother and businesswoman.
The person elaborates: "As far as Kanye is concerned, Beyoncé has no right to look down her nose at Kim, sure she is a reality TV star, but she is also a wildly successful businesswoman and a self-made multi-millionaire."
It has gotten to the point where West will only accept Jay and Bey's friendship if they are more accommodating to his wife.
"The way Beyoncé has been toward Kim is a bone of contention for Kanye, and when it comes to any future relationship with Jay-Z, it is a real sticking point," the insider says. "Kanye feels that unless Beyoncé and Jay-Z are willing to treat his wife with respect, he believes she deserves then he has no desire to make nice with either of them."
Another insider told Celebrity Insider that is not about to happen anytime soon. The music superstar does not think much of the reality star and socialite.
On top of that, it was widely speculated a few years ago that Beyoncé was very wary of Kardashian's intentions, believing that Kim K. was trying to use Queen Bey to gain even wider fame, acceptability and respectability — which is why some people think she really wanted Beyoncé at her and Kanye's wedding.
"Beyonce has never gelled with Kim, she just doesn't respect her, or like her, she never has, even before Kim got with Kanye," the source said. "Beyonce cannot stand the whole reality TV thing, and she thinks Kim would do anything for fame. She just feels they are two different people with nothing in common. Beyonce is always polite to Kim when she sees her, but you can tell it is forced and that there's no warmth or genuineness in her interactions."