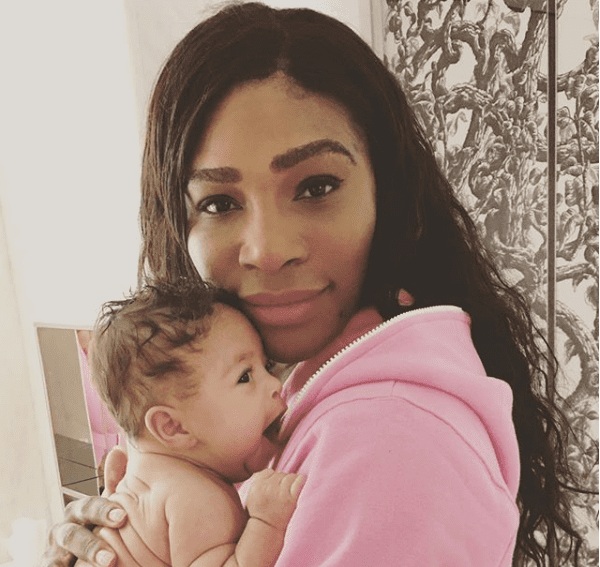 Record-breaking tennis megastar Serena Williams shares a very heart-warming and inspiring message with her daughter Alexis in a new Gatorade commercial, which presents the infant's screen debut. 
From Serena's perspective, it's all about girl power.
Today, the all-time tennis leader in professional Grand Slam titles (23) saw a new ad released for Gatorade and it encourages young girls to reach for the stars in pursuing their athletic dreams despite the obstacles and adversities that come up at regular intervals. The commercial doesn't just star Serena, it also has her baby girl, Alexis Olympian Ohanian, in it.
The one-month-old is being held by her mom in the commercial as Gatorade notes, girls drop out of sports at 1.5 times the rate of boys by the age of 14. Studies have concluded unequivocally that those who stay involved in sports are on average healthier, happier and have better odds of success later in life. 
This latest video, Essence.com reports, is part of the brand's "Sisters in Sweat" campaign that they are using to promote Gatorade's new scripted series that is being developed in partnership with AwesomenessTV. The show will follow a girls' high school lacrosse team. The first episode of the six-part series will debut on Wednesday, Nov. 22.
Williams, 36, has had a very busy and successful stretch of late. It started when Serena was pregnant but still won the Australian Open Grand Slam tournament. She just married her longtime boyfriend Alexis Ohanian Jr., 34, in a glamorous, celebrity-filled ceremony in New Orleans on Thursday.  And she bought an enviable $1.5M mansion in the same city that she got married in. 
Check out a peak of the Gatorade commercial below: 
https://www.youtube.com/watch?time_continue=5&v=6JvRVILczps