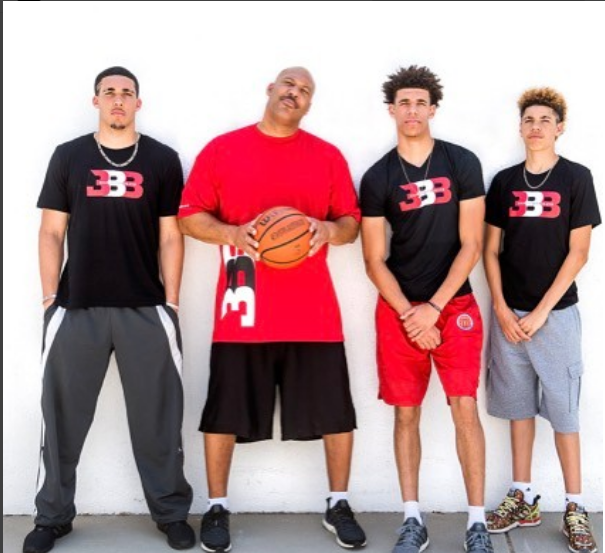 Fittingly, on Thanksgiving Eve, Donald Trump got into yet another infantile war of words with people he believes hasn't thanked him enough for what he had supposedly done for them.
His first target of the day was, yet again, LaVar Ball, the father of three basketball prodigies. The middle child, LiAngelo Ball, is a freshman at the University of California-Los Angeles and was allegedly caught shoplifting with two teammates at high-end stores in China. According to the media, Trump spoke to the Chinese president and secured the three UCLA players' early release to fly back to Los Angeles. They allegedly faced 10 years in a communist prison, according to CNN.
When Ball failed to give Trump sufficient praise and thanks that was to Trump's standards, the president got hot enough to burn the wig off of his head, calling LaVar Ball "an ungrateful fool."
Trump's fiery outburst is in response to Ball's appearance on CNN that rankled Trump's sensibilities.
"How'd he help? If he helped, I would say thank you," Ball told CNN in a very animated and contentious interview with anchor Chris Cuomo.
Trump wasn't having it, calling Ball an "ungrateful fool" and "a poor man's version of Don King," the boxing promoter known for his spotlight-grabbing style.
As for who had helped free LiAngelo Ball from China, the president said Wednesday: "IT WAS ME."
It wasn't the White House, it wasn't the State Department, it wasn't father LaVar's so-called people on the ground in China that got his son out of a long term prison sentence – IT WAS ME. Too bad! LaVar is just a poor man's version of Don King, but without the hair. Just think..

— Donald J. Trump (@realDonaldTrump) November 22, 2017
…LaVar, you could have spent the next 5 to 10 years during Thanksgiving with your son in China, but no NBA contract to support you. But remember LaVar, shoplifting is NOT a little thing. It's a really big deal, especially in China. Ungrateful fool!

— Donald J. Trump (@realDonaldTrump) November 22, 2017
"You're welcome,"  Trump pre-emptively tweeted at the basketball-playing trio upon their return to the United States, telling the three players to "HAVE A GREAT LIFE!" He also suggested that they "give a big Thank You to President Xi Jinping of China."
Trump boasted, of course, that he had personally intervened in the case with his Chinese counterpart, asking Xi to help resolve the case.
When the president returned from a 12-day trip through Asia, he also wrote on Twitter "Do you think the three UCLA Basketball Players will say thank you to President Trump? They were headed for 10 years in jail!"
Enter LaVar Ball, who was asked ESPN about Trump's role in securing his son's release.
"Who?" Ball said. "What was he over there for? Don't tell me nothing. Everybody wants to make it seem like he helped me out."
Trump fumed, tweeting ESPN: "I should have left them in jail!"
The White House later mopped up behind Trump's verbal droppings and said the president wasn't serious, calling it "a rhetorical response" to a criticism by LaVar Ball.