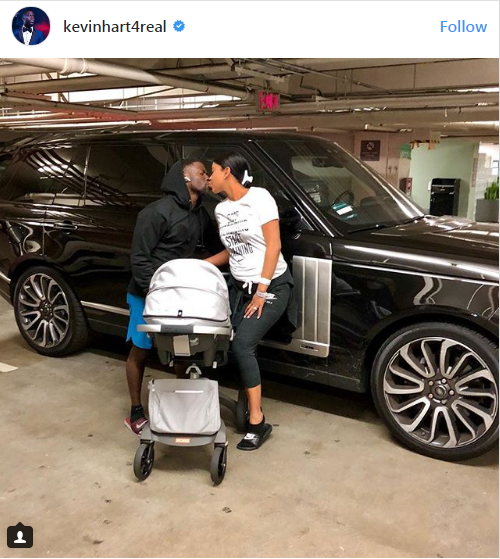 Kevin Hart is a proud new father to Kenzo Kash Hart. He was gushing over his his wife, Eniko Hart, and new son and posted a glowing Instagram post to describe his feelings on Thanksgiving Eve. 
The caption to the above photo reads: "Little Man is coming home….As you can see @enikonhart is up & running & back to normal. She's a rockstar…The woman's body is unbelievable. The strength that she displayed over these past 3 days was like nothing that I have ever seen. I'm lucky to have you in my life and even luckier to call you my wife…I love you woman #ForeverMyRib #Harts#FamilyIsGettingBiggerAndStronger #TeamNoSleep#ThatBoyLovesTheTitty #iGotJealousTwice"
Thanksgiving Day was great for the Harts as he was able to take son Kenzo and wife Eniko home for the first time as a family.
Kevin said he was in awe of how she delivered their child, and he is also thrilled about his new son.
In the accompanying photo, Eniko appears to have her incredible body back just a day after giving birth to the couple's first child on Nov. 21. She sported a tight white T-shirt and black leggings while kissing her hubby as baby Kenzo lies in carriage in front of a black SUV in a parking structure.
Kevin and Eniko Hart had to pass a major test in their marriage back in September when he revealed that he was the subject of an extortion attempt over an alleged sex tape.
Kevin issued a public mea culpa to his wife in an Instagram video. Obviously, Eniko has forgiven the superstar comedian and actor, and a month later the couple celebrated their impending birth with a lavish baby shower in Malibu, California, a prosperous seaside suburb north of Los Angeles.