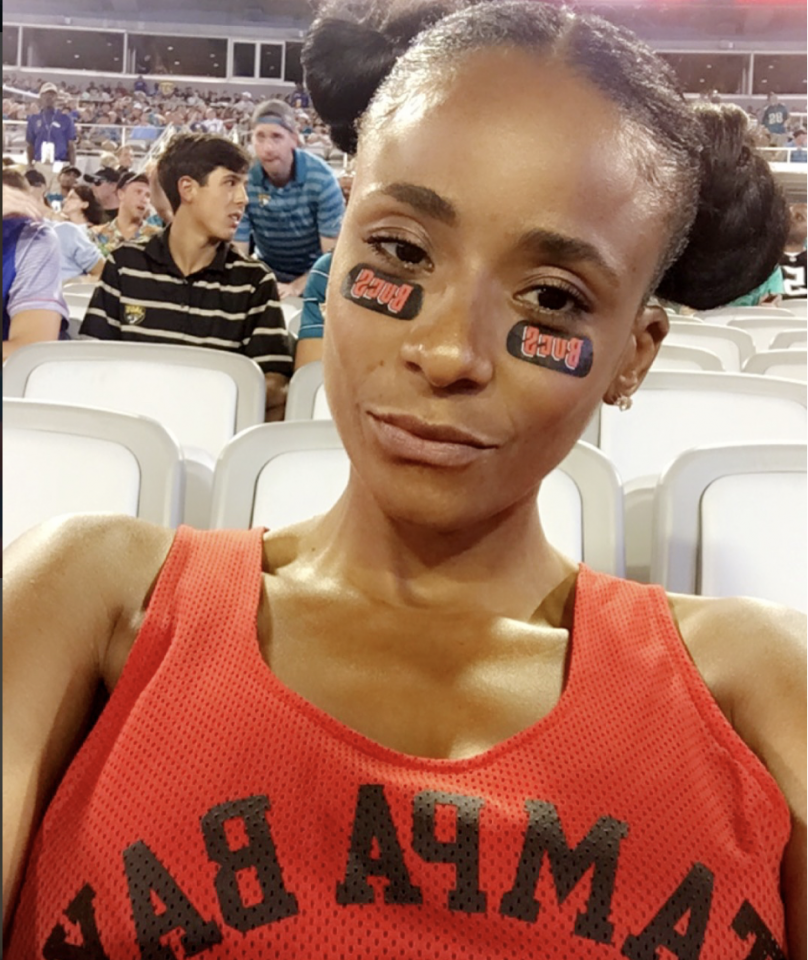 It's been a long and ugly season for the NFL, to say the least. The year's headlines have been dominated by protests, boycotts about the protests and injuries. Many would say that the reputation of the NFL has changed within the last year with the general public. The image of the league even has the president of the United States against it this season. One drastically underrated part of the game hasn't changed, however, which is Miko Grimes. Miko is the loving, unfiltered wife of Tampa Bay Buccaneers cornerback Brent Grimes.
With Brent's rise in the NFL going from the practice squad to becoming a perennial pro bowler, so has the celebrity of Miko. She doesn't hesitate to put a trash-talking fan back in their place by reminding them that majority of the multimillionaire athletes they're speaking of don't care about any opinion that a stranger has about them. She publicly supports national anthem protesters like Marshawn Lynch and Raianna Brown. She's landed in-depth stories in the New York Times and Sports Illustrated to go along with the multiple interviews she's done with Charlemagne The God in the past year. Each episode of her personal "iHeartMiko" podcast rakes in thousands of listens and just about all of her video interviews go viral.
"With me being a woman, being very outspoken, and a wife,  I feel it gives a lot of people a battery in their back [for] a lot of other wives, a lot of other family members to be like, 'You know what? If she's going to say what she wants to say and talk her s—, then so can I,'"Miko said in an exclusive interview with rolling out after a game where Brent returned a fumble recovery for 37 yards. "As family members, we know the players more than anybody, including the coaches and players. We go home to them and talk to them and we kind of know them personally. We don't all know the game the same way, but I feel like a lot more family members need to speak up for the players because this league doesn't allow them to have First Amendment rights. And to be able to say exactly what they want to say. Sometimes us family members need to speak for our family or sometimes just speak for ourselves and say what we have to say about whatever's going on."
Miko was essentially LaVar Ball before LaVar Ball. She even previously admitted to Sports Illustrated that her Twitter rants and public comments probably resulted in the Miami Dolphins cutting Brent in 2016.
"I'm a fan of Big Baller Brand," Miko said. "I love LaVar. I don't like when he says the dumb lies, but I think that he's an awesome father. There [are] a lot of people out there who aren't in their children's lives and he has three sons who are very successful in basketball and I think it's great. I love any family member that wants to talk they s— and get people mad who don't like that there's a successful Black family out here flourishing. So I'm team Big Baller Brand until I die, baby."
One difference between Ball and Miko, however, is that in many cases when she states her opinions, she has the facts to back them up. Facts like pointing out that the Falcons didn't target Brent's side of the field for most of the Nov. 26 matchup, which Miko also pointed out had a large part in superstar receiver Julio Jones having a remarkable 253-yard day.
In a time where efforts are made to blacklist and silence players in the NFL, Miko is the consistent voice the league needs.
"Own whatever you say," Miko said as advice she would give to young Black women to instill confidence. "If it's an opinion, own it. This is my opinion, this is how I feel, and stand on it. Everybody's allowed to have an opinion, so should I."