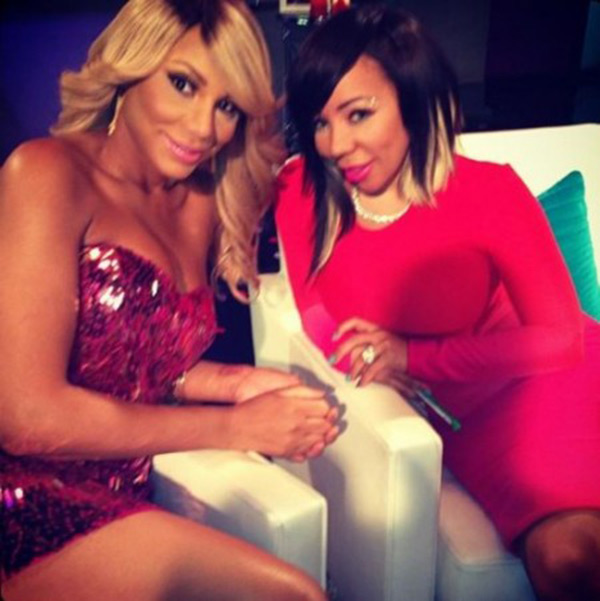 If there is one person who can empathize with Tamar Braxton's marital tumult, it is her close friend Tameka "Tiny" Harris.
About this time last year, the Xscape singer and reality star was also embroiled in marital mayhem and, seeing no resolution in sight, filed for divorce from rapper and actor Clifford "T.I." Harris amid infidelity allegations.
Tiny Harris said she leaned on her faith and prayer to get through the seeming abyss and salvage her marriage to the "About the Money" rapper.
Braxton, who is the godmother of baby Heiress Harris, is going through the ringer since she announced a probable permanent split from her husband of nine years, Vincent Herbert, a music industry manager. In addition to allegations of extramarital affairs, Herbert is being accused of verbal and physical abuse by the matriarch, Evelyn Braxton.
Those who follow "Tamar & Vince" know that Harris is down with Braxton to help her make sense of what she is going through with Herbert.
Harris conveyed the fact that marriage and business do not always work well together and that she should consider other options for her singing career. Braxton had already announced her retirement from the music game earlier this year in order to try, in vain, to resuscitate her marriage. 
Tiny told Braxton, "I think you should get a new manager before you want to get another husband."
Braxton's sisters and mother, however, are not even trying to hear this right now. The family wants Tamar to leave Herbert in her rearview mirror and to never look back. 
As an inside source explained, "They have tried to stay as quiet as possible because they do not want to ruin things. The second they confirm they are together, it opens the gates for criticism." 
"Tamar's sisters all knew how bad it was, so did her close friends. There were a lot of fears for Tamar being in such an unhealthy situation. Her whole family is so relieved that she has finally pulled the plug and filed for divorce," the source to Celebrity Insider. "This divorce has been a long time coming, and it has got nothing to do with Tamar leaving 'The Real.' This is about her finally getting out of a very toxic and ugly situation. Things with Tamar and Vince have not been right for a long time, but she did not want to admit it; she kept making excuses for him."
Braxton also conveyed that she has become wary from her estranged husband using her as an ATM card.: "Tamar is ready to stand up for herself and fight. She does not want to give Vincent money; she is tired of him using her. And she has got no intention of sharing custody with him. Tamar feels very strongly that she should have full custody of their son and she is going to do whatever it takes to get it."