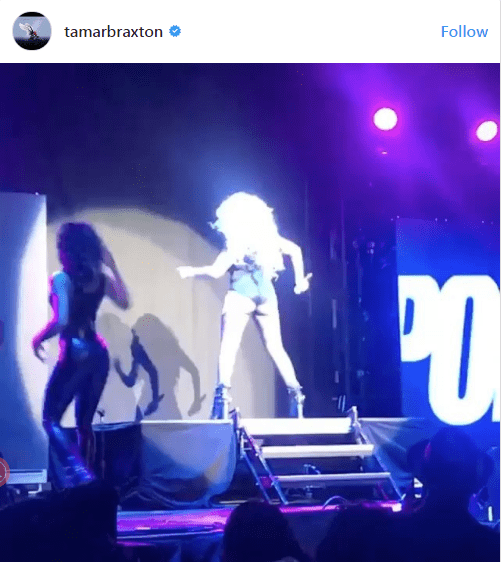 Since Tamar Braxton split from her estranged husband Vincent Herbert, she has started preparing herself to get back into the dating mix. The soul songstress also sparked butt implant rumors as she recently was spotted sporting a "fuller" behind.
Braxton captions her posterior posting with this pondering:
"Feeling so blessed on this Thanksgiving ?￰゚マᄒ I don't know WHERE this booty came from but I'll take that too! ?￰゚リツ?￰゚リツBut most of all to tour with Ladies who you truly love ❤️ #thegreatescapetour I'm so humbled by all the love #bluebirdofhappiness ?"
The former "The Real" co-host's new derriere indeed looks different from previous years.
MediaTakeOut.com attached an old picture of Braxton wearing a pair of black leggings and a sleeveless, body-hugging black top. The difference is like night and day. In the photo, Braxton's backside was definitely less curvy and not nearly as wide as the above photo. There is no date attached to when the old photo was taken, however, so it's not known if the photo came before or after she had her son. 
Braxton recently broke her silence on her divorce from Herbert, whom she had been with for nearly nine years.
Braxton posted a lengthy message on her Instagram account in which she alleged that the music producer had "several girlfriends" and kicked her out of her house. "Some of us have been living a LIE!"
Braxton also added that "sometimes when things R shared, what's NOT being surfaced is that he has one or several girlfriends, or she's never home, or he's very general when he speaks, or 'this doesn't sound like him' or he's so busy lately!!.etc.etc..
  "Is it ok that he checks up on u when his phone(s) R stuck to him like glue? Is it ok that his friends are HIS friends but my friends are 'our' friends? We can argue & u can tell me to get out of 'your'house when I'm the house of cards? None of this is ok..& while I'm not pushing anyone out of the door..I'm just telling you what has pushed me out of mine! That LAST time was the LAST time," she concluded.