Lowell Hawthorne is the founder and CEO of Golden Krust Caribbean Bakery and Grill. A Jamaican immigrant, Hawthorne established the famous fast food empire in 1989 with money pooled from family members including his wife, siblings and their spouses. They started selling those delicious beef patties at the store on E. Gun Hill Rd in New York. By 1996, they operated 17 restaurants in New York. The brand boasts of more than 120 Golden Krust locations in the U.S., which sells jerk chicken, oxtails, rice and peas, curry chicken and more; and its factory being in Morrisania, the Bronx, NY, where they produce tens of millions of frozen patties to be sold retail.
On Saturday, Dec. 2, Hawthorne, 57, shot himself inside the factory located at 3958 Park Ave., which is near E. 173rd St. in Claremont, at about 5:30 p.m. New York Daily News reports that more than a dozen employees were shocked and in disbelief, many of them crying.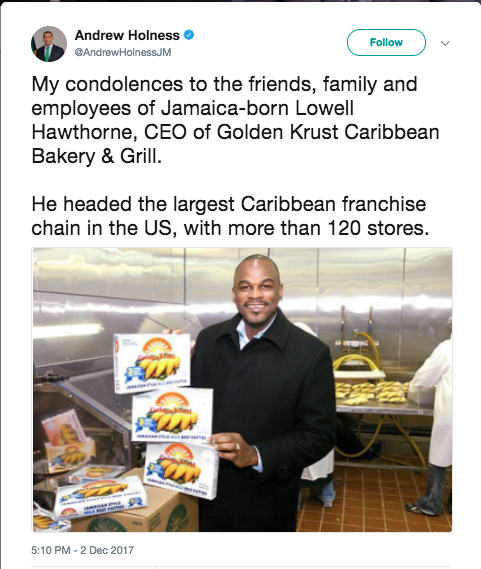 Jamaica Prime Minister Andrew Holness tweeted his condolences.
Golden Krust reportedly became the first Caribbean-owned business in the U.S. to be granted a franchise license. Hawthorne's memoir, The Baker's Son: My Life in Business, was published in 2012.
In a Facebook post, he wrote on Nov. 28:
"I was always in search of the next honest means to make a dollar. Like many transplanted Caribbean nationals, I struggled to work and raise a family. I can only thank God for everything I have achieved," he wrote.

"If my story here can inspire others to rise up and give it a go, I would have accomplished something meaningful."
He leaves his wife, Lorna, three sons and a daughter. His four children are Daren, a lawyer who's corporate counsel; Omar, director of franchising; Monique who runs the company's foundation and Haywood, vice president of manufacturing.