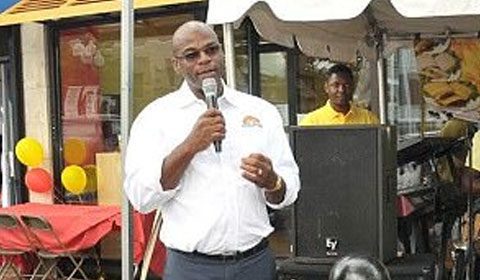 The tragic suicide of Golden Krust Caribbean Bakery and Grill CEO Lowell Hawthorne, 57, over the weekend has shocked fans of the popular franchise. On Saturday, Dec. 2, Hawthorne shot himself inside the factory located in Bronx, New York at about 5:30 p.m. His death came as a shock to workers inside the factory at the time and all were visibly grief-stricken.
Prior to his suicide, the New York Post is reporting that Hawthorne exhibited erratic behavior according to employees at the company. An unidentified law enforcement official stated to the NYP that relatives also reported that Hawthorne was acting funny and "talking to himself" in the hours before his suicide. Relatives also revealed that Hawthorne was facing a huge tax debt and a possible class action lawsuit. In August 2017, Hawthorne received notification of a proposed lawsuit that he cheated more than 100 workers out of overtime pay at his Bronx factory. In addition, Hawthorne feared that the federal government was investigating him for owing millions in taxes, according to the NYP.
Police investigators recovered a suicide note in which Hawthorne apologized to his family. There is also surveillance footage that shows Hawthorne shooting himself in the head. The Jamaican immigrant was a powerful success story on overcoming obstacles. From one restaurant, his business soon spread to 120 outlets in nine states and sells its beef patties in more than 20K supermarkets, as well as to the New York City school system, state penal system and US military.