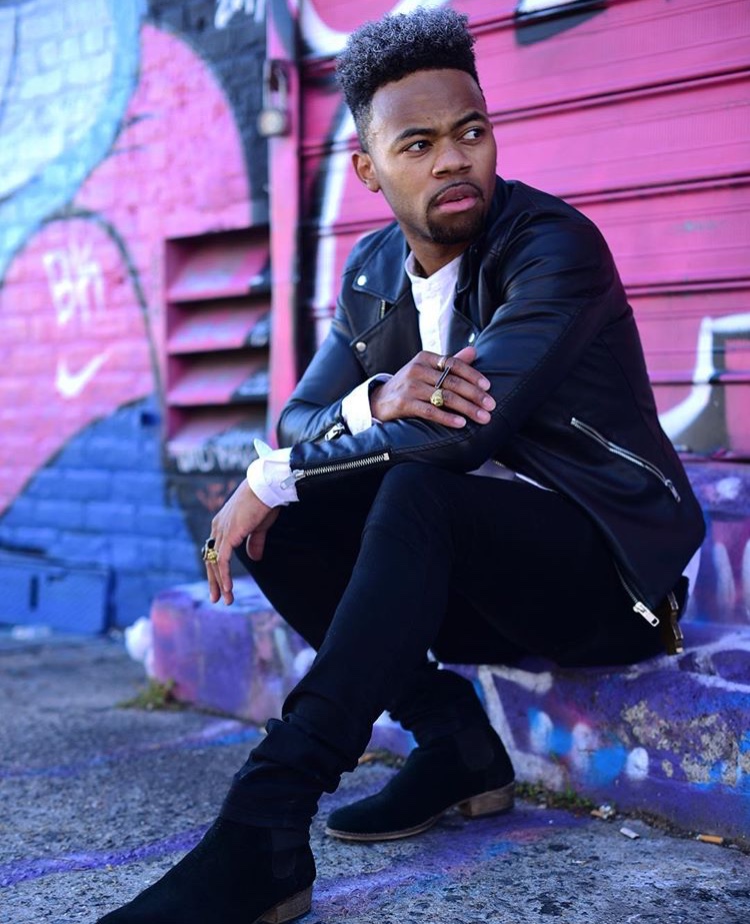 YouTube sensation Devvon Terrell prides himself on being a "weirdo" who's not afraid to be himself without any inhibitions. The 28-year-old Brooklyn, New York, native has been deemed by Forbes as one of the most successful independent artists, garnering six-figure views for his popular YouTube videos, music renditions or covers. He remixes songs such as Rihanna's "Work," "XO Tour Life" by Lil Uzi Vert, Kendrick Lamar's "Humble" and even the theme song from the hit TV show "Power," "Big Rich Town." Terrell's raw and exciting passion for the music artistry has led him to attain 100M views since 2012 when he first started his channel.
Most viewers have argued that Terrell created better versions of the songs he chose to remaster. In addition to his undeniable "weirdo" sex appeal, and talent, Terrell shared that he shot his own videos and tweaked some of the sounds to the original tracks while branding his "weirdo" movement. With influencers like Pharrell, Kanye West, and Ne-Yo, Terrell feels that he is able to bridge the gap for the people who don't understand and embrace their inner "weirdo" to the people who do.
Terrell recently stopped Detroit to greet all his "weirdos" while on a listening tour for Weird Nights, which is now available on iTunes. Read on to find out what he told rolling out about what being a weirdo really means.
So you pride yourself on being a "weirdo" and your album is titled Weird Nights. What exactly is your definition of a weirdo?
A weirdo is a person that is literally being themselves, and when I say that I mean, most of the time when people are being themselves they usually stand out — and the reason I said stand out is because, people that assimilate into what's around them are just following the trends, and they're following what's popular. For people [who] are being themselves, those are the true innovators for me, those are the people willing to take risks. I feel like that's the most powerful thing a human being can be is just themselves; that's one thing no one can do better than you. There's already one Kanye, there's already one Jay-Z, and one Uzi Vert, but there's no one like you that can do you better than you. So, that's what the weirdo thing is all about — embracing who you are as a person and that's really what all I'm all about.
Who are some of your favorite "weirdos" that you look up to as an artist?
My favorite weirdo is Kanye West! He's very outspoken and I admire that about him. It's just very dope to see people that fearless. Uzi Vert for instance, he gets so much backlash from what he wears, but that's just who he is and I respect and love that, he's a weirdo! I feel like people always say, '"Hey, that dude is a weirdo" it's because you don't understand. I love those type of people, and I think those kind of people are true artists to me.
Are you signed to Capitol Records at the moment?
No, actually I have a distribution deal with Priority, which I believe is underneath Capitol. But nonetheless, I'm not a guy who will say "I'm strictly independent." … I love labels and I love being independent but if the right thing comes along then by all means, there's nothing wrong with growing. To me, if the right deal comes along then I'll go for it, there's nothing wrong with that.
Do you think that if you were signed to a label, they would embrace your talent, or do you think they would make you conform to their vision?
Off [the] rip, from what we know with labels, yeah I think they'dl be confused and wouldn't know what to do with somebody like me but that's where the business aspect comes in where it's like, I wouldn't sign unless someone understands and fully believes in me. I think someone would believe in me sooner or later where that could happen. I'm very aware of my surroundings and where I'm at and how I'm growing, so it's just a beautiful thing.
When you started off with your YouTube channel, did you think that you were going to end up with six figures from your videos alone? What was your initial goal?
Honestly, my initial goal was just exposure. I'm really a nerd to be honest. Everything you see I do is recorded, and mix mastered from by me— the videos you've seen were shot by me, and I was just trying to get my name out there. So, basically I just put a video out there, it worked, it cracked and I was taken by storm. I didn't know what the end result would be, I just did something I loved and I wanted people to know, and that's how I got where I am today.
So, what projects do you have coming up?
I have a tour coming up and it starts Jan. 25. It's about 18-19 cities if I'm not mistaken. This is my first headlining tour. I toured the country twice so far, but this is actually the first time I'll be touring by myself. Kenny Smith's daughter is opening up for me, Kayla Brianna. This should be a dope experience.
Where can our readers keep up with you?
You can keep up with me everywhere on social media @DevvonTerrell — double everything!