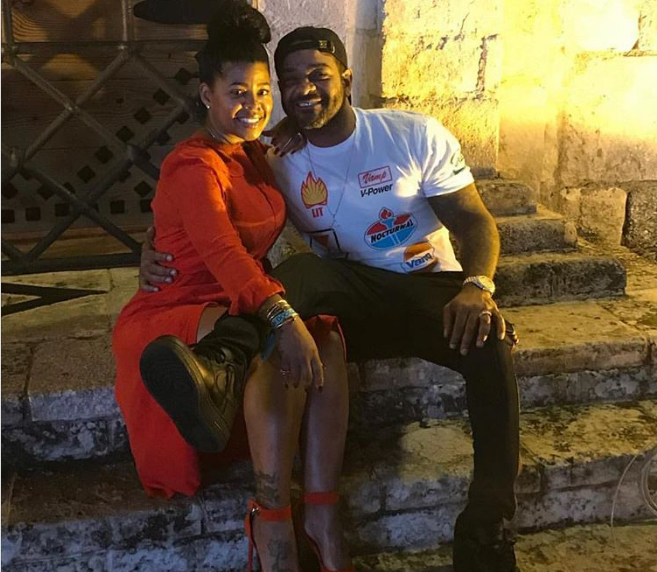 The streets are abuzz with serious chatter. One of the rumors that's riding the wind cutting through the Midtown Manhattan skyscrapers is that Chrissy Lampkin and Jim Jones of "Love and Hip Hop" fame are "secretly" legally married. But, are they true?
A site called "real cool nation" is reporting an "insider" confirmed that Lampkin and Jones jumped the broom in a secret squirrel wedding this past summer:
"According to the insider, the two held and intimate, small, private ceremony to exchange their vows over the summer. They specifically wanted to keep this whole affair private."
The couple's nuptials became a hot topic again after Cardi B and Offset got engaged, because social media is petty. Could this story have been planted or do you think it's real? Jim doesn't rock a ring regularly on his marriage finger.
Those rumors are nice fodder, but folks are trolling Lampkin's Instagram page and they don't see her stunting with a ring of her own. We guess we should just leave these two alone about this now! They appear to be doing well, thus far.
The fans of Lampkin, however, are more impatient than Lampkin in wanting Jones to step up to the plate and put a ring on it.
If you recall, Lampkin made hip-hop history when she swallowed her pride and asked Jones to marry her. Women everywhere got roiled up over Lampkin's proposal, believing that when a woman has to ask for a man's hand in marriage, the man is not 100 percent ready to make that move.
However, a few episodes of "LHH" after Lampkin proposed, Jones shocked his girlfriend in South Beach to propose to her, thus assuring her that he does want to spend the rest of his life with her. But Jones has yet to follow through on the engagement proposal. And the fans are getting antsy, especially the females.
Well, the wait may be over. According to HelloBeautiful.com, the two lovebirds got married while celebrating Chrissy's birthday in South Beach.
Unfortunately, the reports are still unconfirmed. We guess fans will have to keep waiting for any corroborating evidence of any nuptials.