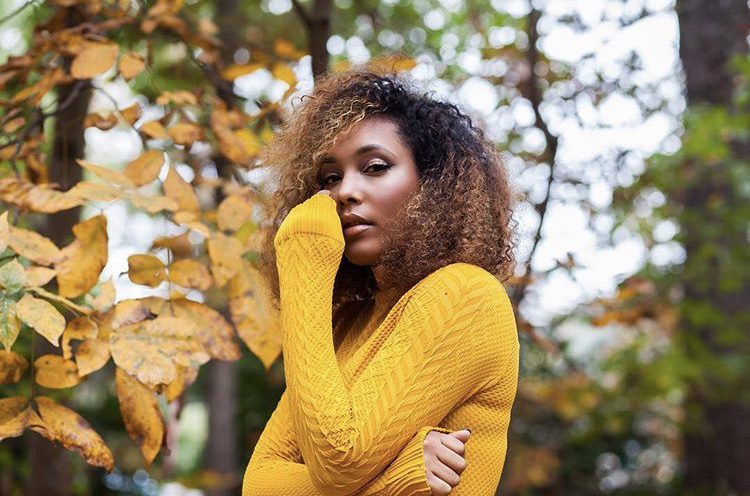 On the radar artist India Shawn is a singer-songwriter with an ethereal voice. After being discovered in a Best Buy parking lot while singing Maya's "Fallen," Shawn has gone on to pen hit songs for the likes of Monica and Chris Brown and drop two original projects of her own, along with other collaborative projects and a tribute collection to Stevie Wonder. Though Shawn's voice is quintessential and consistent, she's known for being musically spontaneous and breaking the mold of the typical R&B sound by utilizing futuristic, celestial, and upbeat-funk elements in her music.
After capturing the hearts and souls of fans, Shawn is preparing to release her latest project, Feels Like Fate, that's sure to aid in the healing of your heart from any damage. As we await the arrival of Feels Like Fate, rolling out had the opportunity to catch up with Shawn to talk her upcoming project, the future of R&B, and working with the amazingly talented James Fauntleroy
You've been busy since the last time we spoke to you about your album Origin. Bring us up to speed. Any upcoming projects?
Well since then, I've collaborated with songwriter James Fauntleroy and did a project, Outer Limit, which was like super groovy and different for me coming from the sound of Origin. Then I did a Stevie Wonder tribute project. I did a project called RE-WERC with the WERC Crew that was a collective of DJs, here in Atlanta. That was really cool because we have kind of come up together in Atlanta and D.C. and we've always wanted to do something together and a lot of DJs are great producers, as well. That was a really great collaboration where we just kind of put our own spin on some mainstream songs. Currently, I'm wrapping up a post-production on my first album called Feels Like Fate, which to me this project is going to be my best project yet.
How does this project differ from the last?
It's been a few years, since like my first album and it's been a couple years since Outer Limit. I've grown up. I'm older, coming into my womanhood and feeling sexier and feeling more confident. I've grown on several different levels — mentally, emotionally, physically. I'm a different person and I think you'll really hear that. It's got that honesty and that purity of Origin, but it's got some really jamming songs on it. Kind of like the feeling Outer Limit has. It's a nice matchup of those two projects. I also experimented with the sounds that I haven't played with before so it's a different feel.
Can you share any specific experiences that helped you create this album?
I had been in a relationship for four years and that ended. [Before the breakup] I got my own place for the first time and eventually my dude and I moved in together.  We were living that grown-up life; paying bills together and, of course, just sharing that level of intimacy of waking up with somebody and going to sleep with them every night. So yeah, it's just that freedom of being a grown-up and all that comes along with that.
Your first album was on a chill vibe. Your second project with James Fauntleroy was more upbeat. Any particular reason why you went in different directions with the sounds of the projects?
Well, I think I'm naturally inclined to do more mid-tempo. Even ballet-balanced tempo songs is the space that I live in musically. That's what you hear more of on Origin. James Fauntleroy is such a musical genius, and being in his space, I really just gave him the reign creatively and let him take control. James is extremely imaginative and able to get outside of his own self to create. We just had fun and that's what you hear on this project — just really unexpected songs like "Stay Classy," "San Diego," "Floating Away" and "Outer Limit." It was just fun and really groovy. We had the production from 1500 or Nothin', his production team and their incredible musicians. It was just more of like a jam session type deal rather than a project.
Speaking of James Fauntleroy: the project was sick! How do you select your creative music partners to fashion your musical voice?
It's usually someone I really admire. The admiration has to be mutual. It's necessary to have that musical understanding and share a musical background though. Like James and I, we're huge Brandy and Babyface fans. We came from the same era of music. We like the same sounds; we love harmonies; we love the vocal production. I'm just attracted to people who share similar musical backgrounds.
Where do you see the future of R&B going?
R&B is getting more experimental, which I love. People like Daniel Caesar, Frank Ocean, Miguel, Jhene, Sabrina Claudio — there [are] so many new R&B/soul artists that are really revolutionizing the sound of R&B by blending genres. And so I'm excited to see R&B [become] this soundless, formless genre that you can still feel the soul in it, and still feel that really familiar, warm feeling, but it also feels very new and futuristic.