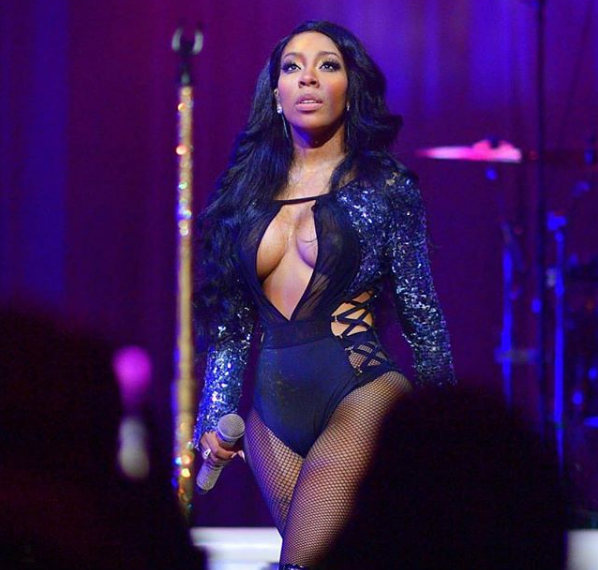 It looks like the fake booty phenomenon that befuddled and stupefied a nation for years has finally come to a complete and inglorious conclusion.
The padded posterior passion permeated urban America — thanks to the strip club and music industries — and was personified in the likes of music veteran K. Michelle.
Already blessed with a bodacious backside to begin with, singer K. Michelle nevertheless underwent butt-enhancement procedures to blow up her booty even more. As with any craze or trend, however, some folks always take it too far in America. Too many Black women were creating incongruent and even cartoonish body shapes. It was also not healthy. Tragedies arose. We began hearing and reading stories of Black women who lost limbs and even their lives after visiting back-alley "pharmacists" who injected them with an assortment of dangerous and toxic concoctions just to get the large, round derriere allegedly craved by urban males.
Earlier this year, K. Michelle announced she was undergoing surgery to reduce her protruding posterior. And just the other day the former "Love & Hip Hop Atlanta" reality star said she is undergoing surgery again in January 2018 to have the remaining vestiges of her faux butt removed.
During an appearance on the "Ebro in the Morning" radio show on Monday, Dec. 11, to promote her new album, Kimberly: The People I Used to Know, K. Michelle discussed her health and body shape.
Michelle, 33, told the radio show host her body had been through the wringer because of poor dietary habits and inadequate sleep. There were also serious health issues, including an incorrect lupus diagnosis and going through in vitro fertilization.
K. Michelle said her insecurities about such issues caused her to alter her body, but she slowly began to see the light.
For example, the flamboyant woman born Kimberly Pate told Love B. Scott in an interview that, after a heart-to-heart talk with R&B singer and actor Tyrese, she realized she prioritized her buxom buns over her career.
"I have like movies and different things [I'm working on], and I was having a real conversation with Tyrese — we're really like great friends. I was telling him about my butt, how I hate being typecast because my bottom is so heavy — not saying I don't love myself, but … you know," Michelle explained.
Michelle said getting the butt implants in the first place was "was a trend for me," she said on "Ebro in the Morning." "People don't talk about that. We all go to the same doctor. It's the same doctor everybody in the industry [goes] to … to get their butt done. And now, we've lost weight, we're having kids and things like that, and our butt has [gone] another direction as well. Now you got to correct it. Now you got to go fix it. I was altering it, but now I'm getting it completely out."
On the "Wendy Williams Show," K. Michelle was asked if she would take her butt down even further, she replied without hesitation, "yes, yes." Adding, "I want Betsie [the name she gives her butt] to stay Betsie so K. Michelle can do her job."
Here are a few photos of what K. Michelle used to look like at her big butt best: