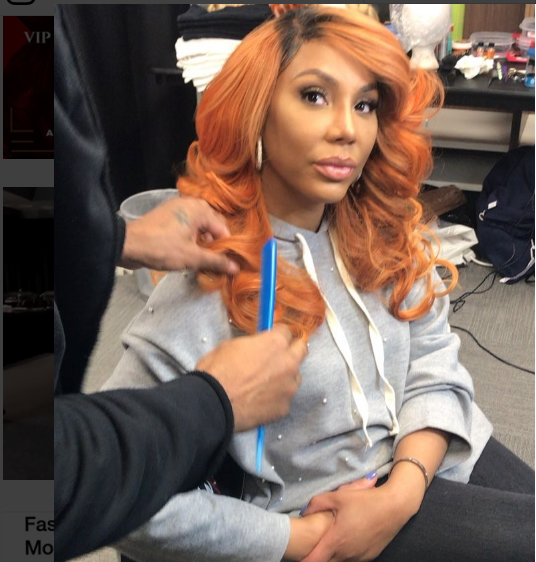 Twitter lost its mind when it learned that Tamar Braxton was tossing pyrotechnic explosives all over social media as she accused estranged husband Vincent Herbert of getting his side "whore" pregnant. And, according to her own posts, Braxton believes the side chick is none other than reality star Laura Govan. 
Govan is the ex-woman of former NBA superstar Gilbert Arenas, the father of their four children. She's also the former star of "Basketball Wives: LA." According to Braxton's Instagram posts, Arenas was the one who spilled the tea to Braxton that Herbert and Govan were having an alleged affair that has produced a seed. Famelous reported that Hebert and Govan were spotted on a vacation together this past fall and that they were also hanging out together at a DJ Khaled party in December.
If true, this will most likely signal the definite and irreversible end of the Braxton-Herbert marriage.
Social media also had a lot to say on the matter. Check out the pettiest and most wretched responses to the accusation that Govan is the mistress who completely shattered one of music's most famous marriages:
When Wendy Williams finds out about this Tamar, Vince and Laura Govan drama pic.twitter.com/h2tyUyhuhr

— rosechocglam (@rosechocglam) December 30, 2017
Laura Govan is pregnant with Vince's baby and he's not yet divorced from Tamar? I thought Iyanla fixed her life pic.twitter.com/Th9CoikbAl

— rosechocglam (@rosechocglam) December 30, 2017
Lordt just came on twitter to say good morning & bumped into this Tamar, Vincent, & Laura Govan drama pic.twitter.com/61BmoDMw4S

— Daneisha M. (@DuhKneeShuhh) December 30, 2017
I'm just waiting for Khia to put Tamar, Vince and Laura Govan on the docket #TheQueensCourt pic.twitter.com/kerW0dP7hH

— rosechocglam (@rosechocglam) December 30, 2017
Lord all this

Tamar

Laura Govan

Vincent Herbert

Tariq and Umar drama down my tl and it's not even noon yet pic.twitter.com/mEqFu7cu0w

— DKT (@darleneturner53) December 30, 2017
Wait a minute!! So the "Whore" Vincent Herbert knocked up is Laura Govan??? Lordt help these hoes. Stop the hoe spirit from running rampant and put it to sleep!! Both of them on that "I lost my weight and the hoe becomes me" ugh 😂😂 pic.twitter.com/1wDN7Zs7o1

— 🌹Drea Not Andrea🌹 (@ColdestHottie) December 30, 2017
Me waiting on Gilbert Arenas to chime In about this Laura Govan Tamar and Vincent Herbert drama I know he gonna talk cash sh*t 😂😂 pic.twitter.com/CGsB0ZITQq

— D.T. (@Darlene26811165) December 30, 2017
Wondering what sort of headline @Bossip is gonna write when they get a hold of this Tamar, Vince and Laura Govan saga 😂 pic.twitter.com/nRBptBljPS

— rosechocglam (@rosechocglam) December 30, 2017
Laura Govan after she got one of Vincent Herbert kids for 18 years.. secured that bag. pic.twitter.com/xt8HLXaOie

— DKT (@darleneturner53) December 30, 2017
Laura Govan has been bragging about bagging a white dude from time. so you mean to tell me this whole time the white bae is Vince? pic.twitter.com/0aO7zM1R7M

— . (@_Vaun) December 30, 2017
All of us on this beautiful Saturday morning looking at this Tamar, Vince and Laura Govan situation pic.twitter.com/R9erdF06xU

— Jessica Maraj (@onikadaughter21) December 30, 2017