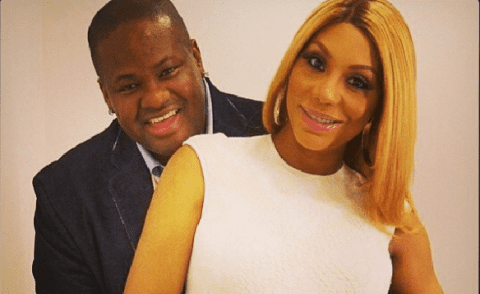 Former NBA superstar Gilbert Arenas, believe it or not, once battled the likes of LeBron James for the distinction of being the best and most marketable NBA player about a decade ago. But Gilbert's penchant for imbecility and keeping up drama inside and outside NBA locker rooms quickly wore thin with team executives and, soon, the man who seemed destined for greatness was exiled from the sport that made him famous.
Fast forward about a decade. Based on Arenas' latest antics and words, he has not grown tired of kicking up dust and manufacturing explosive situations. Then again, with an Instagram handle (no.chill.gil) and a sports show he hosts called "Out of Bounds," we should come to expect this. 
It turns out that Arenas was the person who told Tamar Braxton that her estranged husband, Vincent Herbert, was having an affair with Laura Govan, who happens to be Gilbert's ex-girlfriend and a former reality star ("Basketball Wives: LA"), TMZ stated. 
Arenas took to social media on Sunday to slam Govan. TMZ screenshot the text before it was deleted by Arenas. 
You may wonder why Arenas has such venomous feelings towards the former longtime girlfriend. 
The two share four children, first off. And their breakup was like a made-for-TV miniseries. After Braxton essentially called Govan a "whore" on Saturday for allegedly getting pregnant with her estranged husband's baby, Arenas claimed Govan purposely got pregnant by Herbert so she could funnel money from him.
Just like Braxton, Arenas trashed Govan harshly. He reportedly wrote, according to TMZ: "…my BM decides she wants to use me to clear her dirt up … you must have forgotten that I have all the court documents and in those court documents are ALL your bank records AND in those bank records ARE these little things called (wire transfers) and with wire transfers comes (senders) which either has they name or they bank account numbers from Jan 2015 through oct of 2016, I would have every person that sent you money … #hoe #hoe #hoe merry Christmas."
Arenas, 35, added this swipe to close out his post: "Handle your situation without using me as your scapegoat."
Gilbert then warned Herbert, telling him to get away from Govan: "@thevincentherbert I don't know who's pregnant but if it's my @BM RUN N**** RUN.  I know you cant run that fast big fella so get you a hover board/scooter or something and #georgejetson the f*** outta hear becauz she's about to f*** yo whole life up.  She's about to have you out her like (soulja boy in January) (tyrese in november)."
Govan, 38, has not responded to her ex-boyfriend's vituperative words yet, even though Govan did hop onto Instagram to deny Braxton's claims that she ever had sexual relations with Herbert.
Braxton, 40, filed for divorce from Herbert, 44, after nearly nine years of marriage. "At this time, we can confirm Ms. Braxton has made an extremely difficult decision and has filed for divorce from Vincent Herbert," her rep told People back in October. "Collectively, their son, Logan, and his well-being during this extremely unfortunate process is most important. We ask that everyone respects her privacy during this incredibly difficult time. She appreciates everyone's love and prayers."
Braxton wants the court to give her full physical custody of their 4-year-old son, Logan.