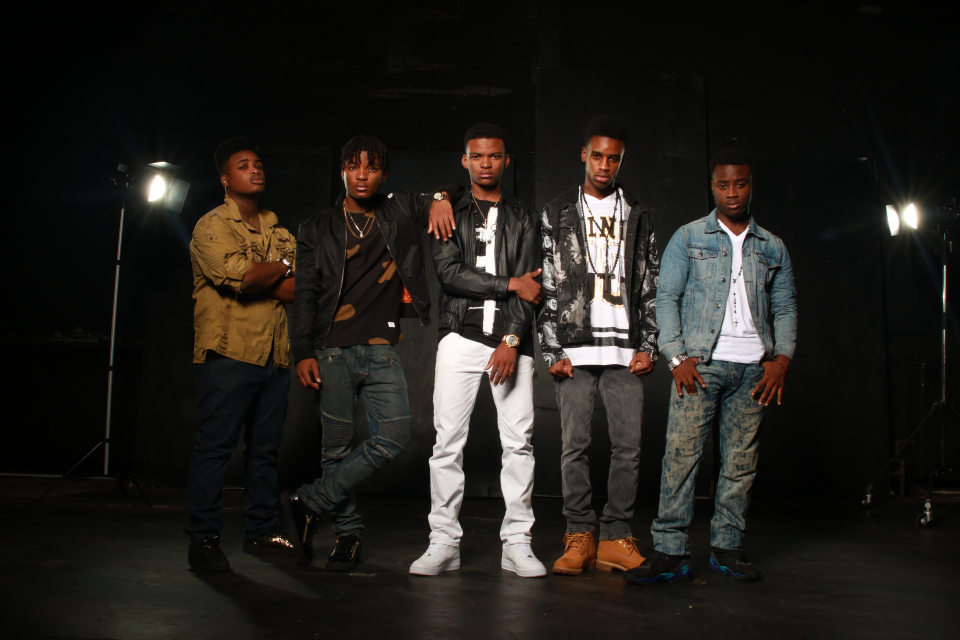 Though boy bands like Boyz II Men and Jodeci took the torch from New Edition to rule the 90's, there hasn't been much of a niche for them in the 2000's. In recent years, we saw a huge influx and craze for boy bands like One Direction in pop music, but R&B has yet to gift us with our next sensation – until now.
Route 5, including Jeffrey Lefevre (Free), Jerry Lefevre (JB), Debson Dudre Mompremier (Debs), Nickson J. Mompremier (Pres or President), Jason Mompremier (Killa) are on a mission to bring the harmony and sexiness of boy bands back to R&B.
Rolling out got their take on music as a boy band in this next generation.
How did the group form?
The Mompremier brothers and Lefevre brothers had their own separate groups. The Mompremiers saw JB performing solo and asked him to join their group, then JB brought his bother Free along. And that's when we started performing together.
When did you all know music was your calling?
Constantly performing in many venues and putting smiles on people faces made us quickly realize that music was our calling.
What are some challenges you face as a group, as opposed to being solo artists? What are some benefits of being a group?
Being in a group is like being in a democracy. Everyone has their own opinion and their own idea of how things should go. Sometimes everyone doesn't agree on the same things but we always find a solution that satisfies everyone. Some of the benefits of being in a group are that there are five minds working at once. So you get things done faster and you always have five individual ideas coming to the table.
What inspires you to perform?
What inspires us to perform is watching our idols perform and being able to experience people enjoying what we do live.
How would you describe your brand of music?
Route 5's brand of music is just raw. All our music comes from what we've experienced and what we feel. Whether it's good or bad, so that when people listen to it they'll feel a connection to the music.
When you are on stage what do you want to convey about the group's style?
We'd like to convey to the world that we're five guys who love to have fun and watch people have fun with us.
Describe you all's creative process from concept to complete song?
Our creative process is based off what we feel. Every member can express in their own way what the music tells them to do. And then we choose what we all feel the most and build off that concept.
What advice would you give anyone preparing to enter the music business about publishing and management?
Our advice to them is to always make sure you have someone you can trust because in this business, loyalty is one of the most important things. You need to have someone who trusts in your ability to create music.
If you were going to sing for any famous person as a celebration of what they have done for humanity who would it be?  
The person that we would have the privilege of singing for would be Akon. He's been able to provide solar power for millions of people in Africa and has helped with keeping these people employed. These are some of the types of things that we like to be able to do for our home country of Haiti in the near future.
What do you like the most about being musicians?
The fact that we have the opportunity to reach and change many lives through the message of our music. And to be able to provide for our loves by doing what we love to do.
What musical achievements have you yet to obtain?
We have yet to achieve getting a Grammy or having a #1 song which fuels us to work toward these achievements.