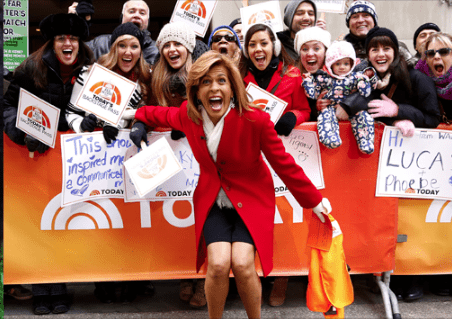 The move by NBC executives to make Hoda Kotb the permanent replacement for Matt Lauer, its crown jewel of a show, prompted "Today" co-host Savannah Guthrie to exclaim with delight:
"This has to be the most popular decision NBC News has ever made," Guthrie said while celebrating the news on Tuesday's "Today."
"There's no one I'd rather be sitting next to in 2018 than you," Kotb responded to Guthrie.
NBC has finally found a suitable replacement for the toppled news Goliath Lauer. His ignominious and precipitous downfall as the previously impervious news deliverer created shockwaves that reverberated throughout the corridors of the entire network — and all morning news shows. NBC feared the station's cash cow show would lose viewership and ratings but, instead, became more profitable in the post-Lauer months with Kotb as the temporary co-host. This made the decision to make her the permanent replacement over higher-profile candidates like Meghan Kelly all the easier.
Kotb, 53, will co-host the first two hours of the morning show alongside Guthrie, making the NBC program anchored solely by a female team. She will also continue to co-host the 10 a.m. hour of "Today" alongside Kathie Lee Gifford, a gig she's had since 2007, NBC reports.
"Over the past several weeks, Hoda has seamlessly stepped into the co-anchor role alongside Savannah, and the two have quickly hit the ground running," Lack wrote in a statement, according to the New York Times. "They have an undeniable connection with each other and most importantly, with viewers, a hallmark of 'Today.' "
Kotb was assigned to host with Guthrie on the morning that Lauer's firing was announced. The two hosts were praised for their handling of the situation.
NBC management took it day by day and decided to keep Kotb in the chair in December.
Al Roker and Carson Daly are the other two members of the 7 to 9 a.m. "Today" ensemble. In fact, Roker, the longtime weatherman, expressed his elation via his social media account:
A hearty #congratulations to @hodakotb officially our new @TODAYshow #cohost with @SavannahGuthrie #SavannahHodaTODAY pic.twitter.com/SNNZ2y8Zko

— Al Roker (@alroker) January 2, 2018
Kotb also can't believe her great fortune of being co-host of arguably the most popular morning news show in America:
Whaaaaaatttttttt! #SavannahHodaTODAY pic.twitter.com/qX53MUHxcj

— Hoda Kotb (@hodakotb) January 2, 2018
Kotb was born in Norman, Oklahoma, and grew up in Morgantown, West Virginia, and as well as suburban Washington (Alexandria, Virginia) She lived in New Orleans throughout the 1990s.
Kotb's parents are from Egypt. Kotb and her family lived in Egypt for a year, as well as in Nigeria.
She graduated from Fort Hunt High School in 1982. She was elected homecoming queen and selected to speak at her graduating class's baccalaureate service.
Kotb graduated from Virginia Tech with a degree in journalism. She joined the NBC network in 1998, first as a correspondent on the "Dateline" newsmagazine.