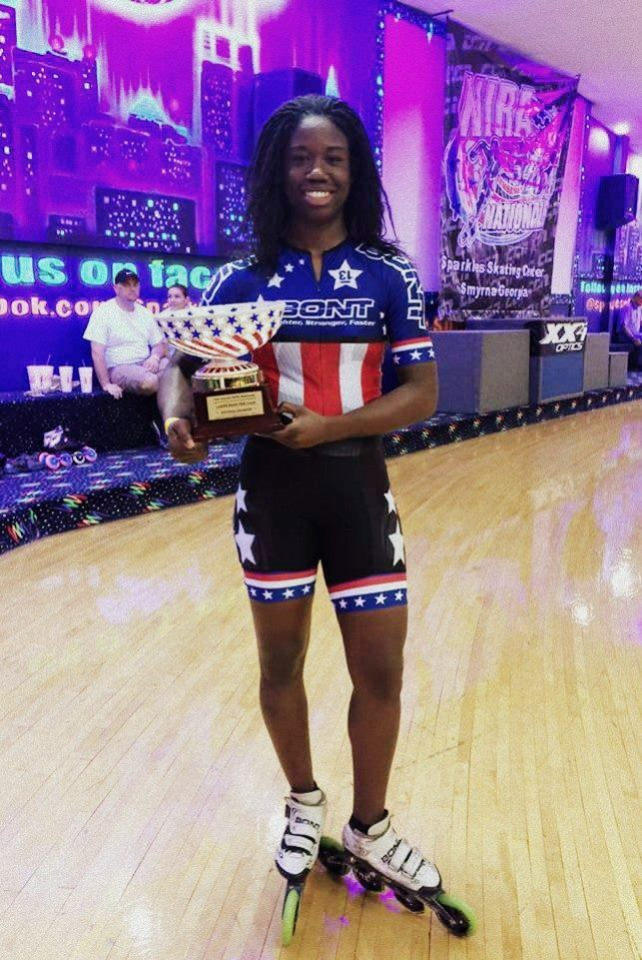 Only three weeks after Maame Biney made history, there's now more Black girl magic representing Team USA in this year's Winter Olympics. Erin Jackson became the first Black woman to make an Olympic team for long-track speedskating on Friday. She qualified in third place with a time of 39.04 in the 500-meter event at the U.S. Speedskating Trials in Milwaukee.
Perhaps the most insane part of Jackson's accomplishment is the fact she's only trained on the ice for about four months. The 25-year-old has been an inline speedskater for a little over 15 years, but the first time she's trained full time on the ice was last March.
"Before a couple of weeks ago, I haven't even hit 40 [seconds] yet," Jackson said in the post-qualifying race interview with NBC Sports. "Two weeks ago, I hit a 39.05 and that was kind of out of nowhere, I dropped a full second. Then for here, I was still like off a full second of the top girl, so I was like, 'I'm just going to do my best and see what happens.' "
As a roller blader, Jackson is a 10-time world medalist, 38-time national champion, three-time current national record holder, and three-time United States Olympic Committee Female Athlete of the Year for Roller Sports, according to her official website. The Ocala, Florida, native graduated from the University of Florida College of Engineering with a bachelor's in materials science and engineering in May 2015.
Biney became the first Black woman to qualify for the short-track speedskating U.S. Olympic team on Dec. 19. The 17-year-old originally from Ghana has a contagious positive attitude and celebrated her qualification so hard that she actually slipped and fell on the ice after crossing the finish line.
The Winter Olympics in Pyeongchang, South Korea, begin on Feb. 9 and end on Feb. 25.