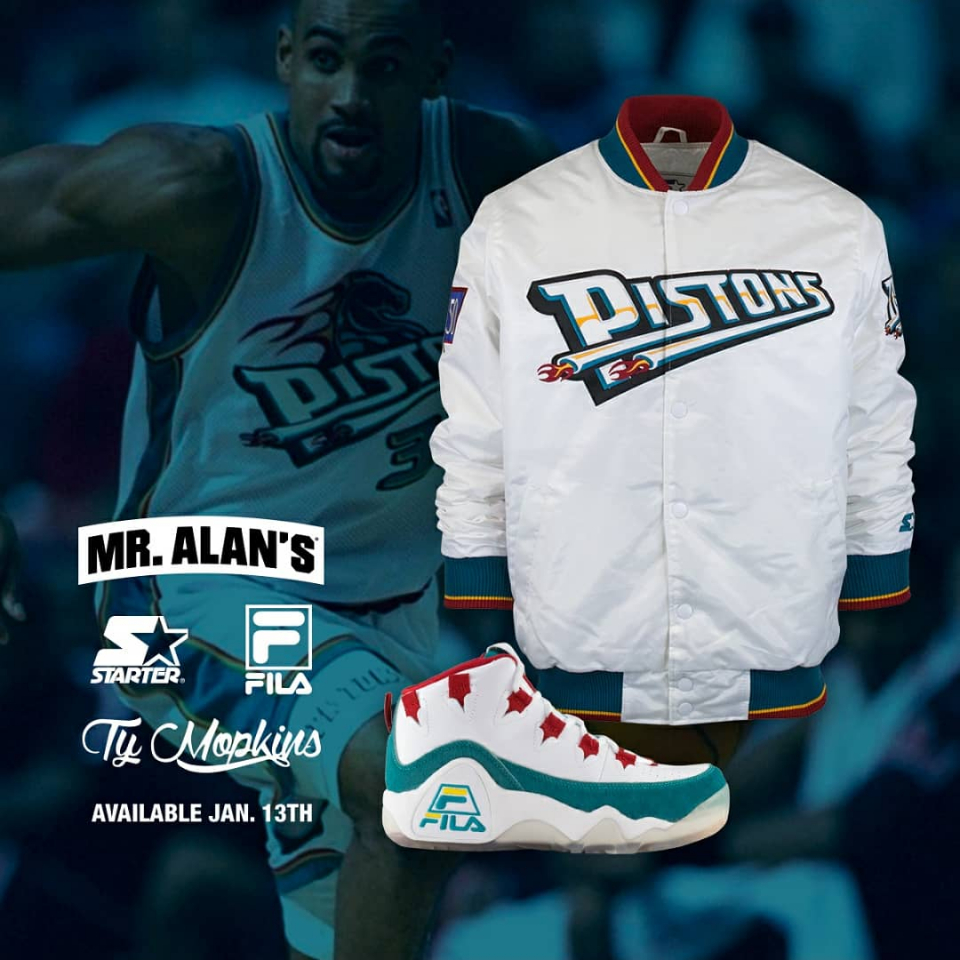 If you go to Mr. Alan's site right now, there is a countdown timer that's clocking the days, hours, minutes, and seconds until the "Detroit Horsepower Collection" is available. Detroit's designer extraordinaire Ty Mopkins has shaken the city up once again as he, along with Mr. Alan's, Starter and FILA have come together for this amazing release. The Starter jacket and FILAs are rarities themselves, and Mopkins spared no expense for the rollout of this collection.
What makes the "Detroit Horsepower Collection" so special?
This collection is very special because this is the first time that I'm doing a collaboration with two companies [Starter and FILA] that are dropping on the same day. I'm probably the first person to do a collaboration with two separate companies that dropped on the same day, for the same meaning. The logo and the colorway that we're using is what makes it special as well because we're using the classic teal and burgundy colorway from the late-'90s Detroit Pistons horse logo.
What is your favorite Pistons logo?
Deep down, I do like the horse logo, but I'm going to go with the Isiah Thomas Detroit Pistons-era logo. That logo represents the Bad Boys era, and the 1989 and 1990 Pistons championships. I would also choose the Chauncey Billups "Goin to Work" Detroit Pistons logo.
What can we expect from this new collection?
The complete collection is standalone. There has never been a shoe made like this before. The shoe has a patent leather upper sole, teal pony hair going around the shoe, and a clear bottom which features the Pistons horse flame. Everything I put on this shoe is what we as Detroiters are known for, and it complements the Starter jacket perfectly. This is only the beginning of what I have in store, so I encourage everyone to stay tuned.
Visit www.mralans.com to pre-order the "Detroit Horse Power" Slam Pack. The jacket will be available on Jan. 12 on the site, and on Jan. 13 at the Mr. Alan's locations.