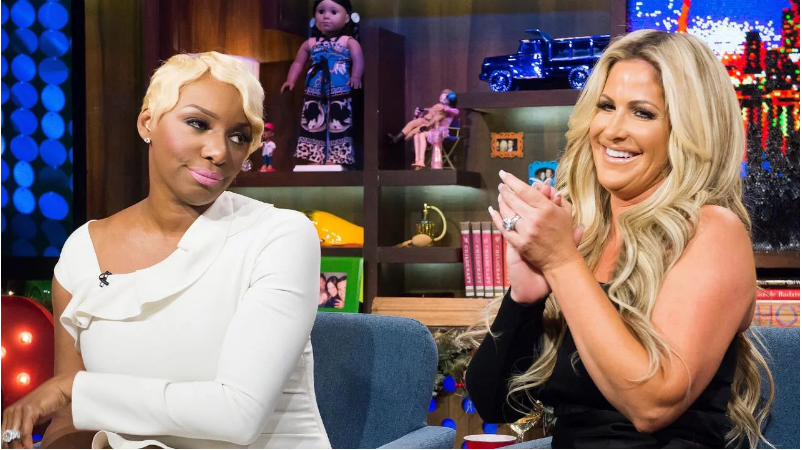 Kim Zolciak of the "Real Housewives of Atlanta" has read, memorized and executed the Kenya Moore playbook on how to remain relevant on the popular reality show: Manufacture mess; orchestrate drama between others; and verbalize craziness at regular intervals, with little regard for authenticity or proof, and that has kept the Blonde Wigged One in the forefront of everyone's minds.
When one fire has been extinguished, Zolciak unfurls her blowtorch to set another situation ablaze. When "RHOA" gathered all the ladies to address the latest bit of drama, Zolciak ensured she had the spotlight shining on her. 
Zolciak accomplished this by deliberately ignoring Leakes during the meeting and whispered in Porsha Williams' ear while holding her hand during the meeting.
Kenya Moore tried to call Zolciak out, to no avail, however, as Zolciak hates Moore and refuses to speak with her. 
The ladies were hoping that Williams and Leakes would end their feud, but this plan failed as well. The ladies eventually left the scene, and Leakes asked Zolciak to stay so that they would be able to talk.
That was when Leakes told Zolciak that she is really disappointed by the way that she acted during her all-white party a month ago.
"RHOA" fans recall that was the moment Zolciak threw a glass of wine at Moore and tried to assault her as they argued over daughters and husbands.
Zolciak apologized but she asked Leakes if she was on drugs that night. Zolciak claimed that her eyes looked strange and she suspected that Leakes had taken some sort of drugs. Leakes denied that and said that the only drug she had used that night was alcohol. Check out a preview below as the situation quickly degenerates.