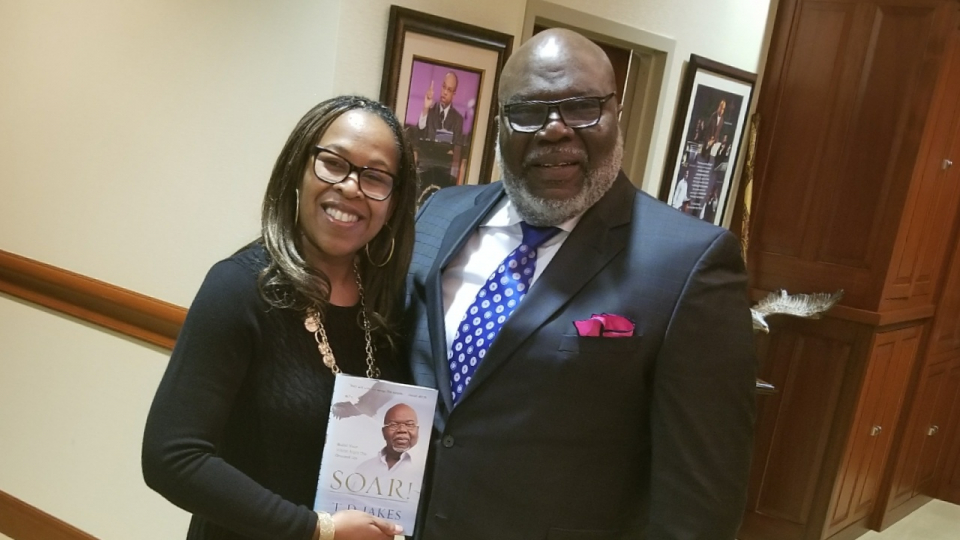 With brutal temps in the single digits and a wicked wind chill factor that blanketed the entire northeast region, I arrived on-site with high expectancy that within a matter of minutes the climate would shift to sizzling as we ascended on the subject matter of — entrepreneurship. It was indeed a distinct honor and privilege to recently sit down at the First Baptist Church of Glen Arden in Upper Marlboro, Maryland and dialogue with one of the most prolific and progressive thought leaders of our generation, Bishop T. D. Jakes.
One of the preliminary inquiries alluded to SOAR! serving as a catalyst to usher the church and faith-based entrepreneurs into the next dimension of opportunity and advancement. Bishop expressed, "I think it's a bigger play then just moving the church into the next dimension. I think it's really an attempt to bring underserved communities of all types into the next dimension."
Jakes expounded on a developing problem in our country where communities were crafted around an age and era that no longer exists. The industrial age came and a plethora of jobs existed. Then blue-collar jobs became available where underserved communities had opportunities to live in better neighborhoods, to own homes, and to be successful. However, when the technological (or information) age surfaced, there was a chasm that created a split in America where those who could not go up and ride the wave of technology, or did not have a college degree or skillset to grow up, fell down into the abyss of poverty and poor opportunities.
"There's been a lot of discussion in this country about jobs, and those jobs coming back. Even if the companies come back, those jobs don't exist in the form that they did 30 years ago. The reason I wrote SOAR! is to provide a different narrative of entrepreneurship to create opportunities for underserved communities." –Bishop T. D. Jakes
With fervent passion, Bishop further expressed that for example, it's an opportunity for those who have past criminal records to find a job, which makes up a significant demographic in underserved communities. Now, they can have more opportunities to better themselves.
"It's imperative that we go beyond just talking about jobs to creating jobs. Seventy percent of the people employed in this country are employed by small companies. As we consider the complexities of getting America back to work again, entrepreneurship is a way to do that," he said.
The vision and passion of T. D. Jakes is to fuel the SOAR! movement to include engaging conversations, exchange of ideas, and relevant strategies and solutions for our communities, organizations and associations that will seize and overtake opportunity and catapult generational change.
We're leaving the runway, and you've been cleared for takeoff!