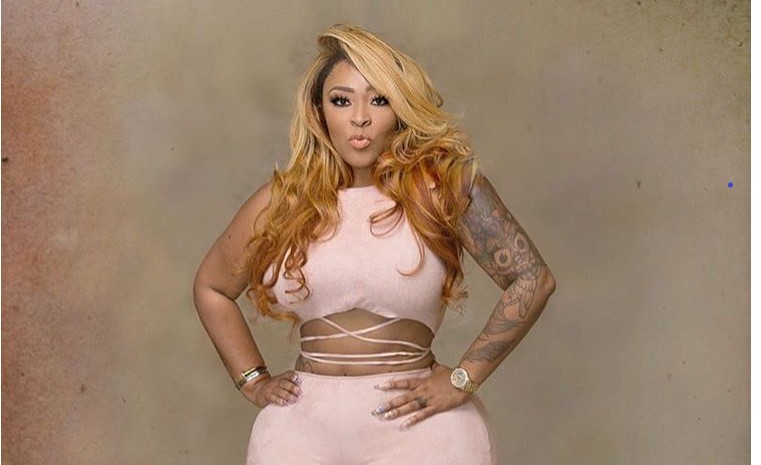 The millenial female entrepreneur stats are amazing. It's no secret that young Black women are launching small businesses at a breakneck pace. From IG clothing boutiques to eyelashes, weave and haircare products black women are claiming their consumer dollars, especially when it comes to beauty products. Jesseca Dupart, also known as @darealbbjudy, is one of the most successful female entrepreneurs in the country. Her million-dollar empire consists of 11 hair care products specifically created to assist women of color in taking care of their natural hair while keeping their weaves on fleek.
Dupart worked as a hairstylist in New Orleans for almost 20 years before launching her hair care products for women of color. Determined to create a line of products that helped her clients with thinning edges, alopecia and overall hair loss, Dupart set out to create products that would help her clients have strong healthy hair. It wasn't an overnight solution and, in fact, tit ook Dupart almost two years to complete the process.
Dupart began promoting her products on social media, using comedy skits that scored big with her demographic and soon she became one of the most recognizable figures on Instagram. Dupart believes that a lot of the millenial women that look up to her don't realize the sacrifice it took for her to get to the level she's at now. "It took a lot of investing back in myself. You get a check and it may seem like it's a lot of money but it's not when you have to turn around and invest that back in your business," she says.
When asked about men not taking her seriously because of her appearance, Dupart turns straight no-nonsense. "You have to be clear that you are about business. I had someone I was doing business with ask me what I was wearing one time. I immediately shut that down because I'm here to make money and that's it," she explains. Dupart says young women should note that if they take a shortcut in business that results in a quick fix, more than likely their business will be over quick. "There are no shortcuts," she says simply.
Dupart visited rolling out for an entrepreneur edition of reality check and answered questions from several fans. We included a few questions and answers below:
@_kareemah.e: Please explain what e-commerce is and how do you find wholesalers to work with?
@darealbbjudy: E-commerce from my understanding is virtual retail. It's the sale of goods over the internet using whatever platform you are showcasing your product on. It's very lucrative and really it's the way people are buying goods now. The stats from Black Friday and Cyber Monday this year proved that people are doing most of their buying on their phones and computers.
You never buy big from a wholesale provider that you haven't worked with in the past. The key is to buy small until you find a product that is the quality you want to represent your brand and of course that has the right price point for you. Never buy in bulk from someone without testing the product. Most wholesalers have samples.
@thekidneptune: Once you establish your business, how do you keep clients coming back to spend money with you over and over?
@darealbbjudy: My No. 1 thing is customer service. No matter what you do customer service is key. I have been comments saying they are fully stocked with my products but they are still buying just to support me. My repeat sales are over 70 percent. Stay true to your brand even if you switch up.