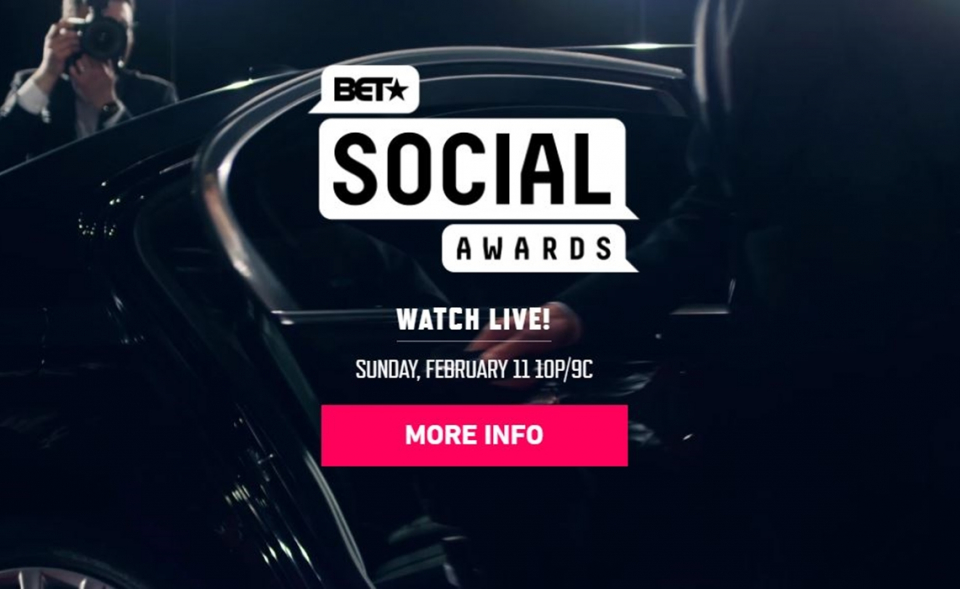 NEW YORK — Like an Olympic marathon race that is quickly coming to its enthralling conclusion, public voting for the inaugural BET Social Awards is getting intense.
Black Entertainment Television Networks announced the final nominees of the "BET Social Awards," as nearly 14 million voters have put their bid in to determine their favorites in multiple categories. The fields range from their favorite celebrity couples and social influencers to the best podcasts and memes.
The ultimate winners of the "BET Social Awards" will be announced during the show on Sunday, Feb. 11, 2018 at 10 PM ET/PT.
Here is how BET is presenting this new hip awards program:
Voting for the top (5) nominees chosen in the online categories opens today, Tuesday, January 23 at Noon EST.
Hosted by comedian and actor Michael Blackson, "THE BET SOCIAL AWARDS" will shoot live from Tyler Perry Studios in the new studio Ft McPherson in Atlanta Executive produced by Mike Epps, this first-of-its-kind awards show will celebrate the very best and all the things we love about social media over the past year. From favorite celebrity follows, to the biggest memes, hashtags and trends of the year, this one-hour event will cover all of the most memorable and talked about social media moments that flooded 2017 timelines.
Final nominees include social savvy music artists Lil Uzi Vert and H.E.R.; social mavens Jess Hilarious and Tami Roman; clapback queens Chrissy Teigen and Maxine Waters; memorable memes from Salt Bae and the "Real Housewives of Atlanta" "Who said that?"; social hustlers DC Young Fly and WatchJazzy; and celeb couples Cardi B and Offset as well as Gucci Mane and Keyshia Ka'oir. Additionally, a final voting category has been added to the mix, "Best Tea", that will determine the fan-favorite media outlet with the best gossip. Who will trend to the top? The power is in the viewer's hands! Go to BET.COM/SOCIAL to select the final winners who will take home the social superstar titles.
The final nominees for round two of "THE BET SOCIAL AWARDS" online voting are:
ISSA WAVE:
Gone are the days of record sales reigning supreme! To be the most influential social artist, you need streams, likes and views — these bubbling artists nabbed all 3. Now the question is, who's wavy enough to take the crown?
Lil Uzi Vert
H.E.R
21 Savage
Kash Doll
Logic
SOCIAL HUSTLE:
#BookedAndBusy! These influencers are the definition of "no days off." From sliding onto our timeline and into our hearts, all while securing the bag, that's a true hustler mentality. Vote now for your favorite!
FatboySSE
Kendallkyndall
Jess Hilarious
DC Young Fly
WatchJazzy
LMAO!:
Social media is the new frontier of comedy and these nominees always keep us laughing 24/7. From their hilarious posts to their ability to pick us up when we're down, these nominees take the cake for best social media comedians. Who served up the best kiki?
Blame It on Kway
Jess Hilarious
HaHa Davis
LaLaSizaHands89
Tami Roman
CLAPBACK:
If you troll, they're trolling back! Internet beef is nothing new, but when these nominees let loose, the whole world notices. From clever reads to snatching edges, these nominees are known to put people back in their place. Whose clapback game was the strongest?
Chrissy Teigen
Remy Ma
Maxine Waters
Angela Rye
Jess Hilarious
BEST PODCAST:
Pop in your headphones, you're in for a treat. These podcasts are the voice of the people, and we want to know which one is your favorite!
The Drink Champs
The Bodega Boys
The Read
Two Dope Queens
Joe Budden Podcast
MOOD AF:
Let's celebrate the memes and gifs that came out of nowhere, took over our timelines and showcased clever moods, shade and subs we didn't even know we needed.
Roll Safe
Salt Bae
Issa Rae – "I'm Rooting for Everything Black"
Real Housewives of Atlanta – "Who Said That?"
Michael Jordan Crying
BAEWATCH:
These power couples epitomize #relationshipgoals and we're here for it! Rep your favorite couple and vote below!
Gucci Mane & Keyshia Ka'oir
Teyana Taylor & Iman Shumpert
Cardi B & Offset
Remy Ma & Papoose
Russell Wilson & Ciara
BEST TEA:
Social media has flipped entertainment news on its head; these new media outlets represent the best sources of all the tea to fill your cup.
Famelous
Bossip
The Shade Room
Baller Alert
Produced by BET Networks, "BET Social Awards" is executive produced by Mike Epps, Kyra Robinson and Eric Conte.