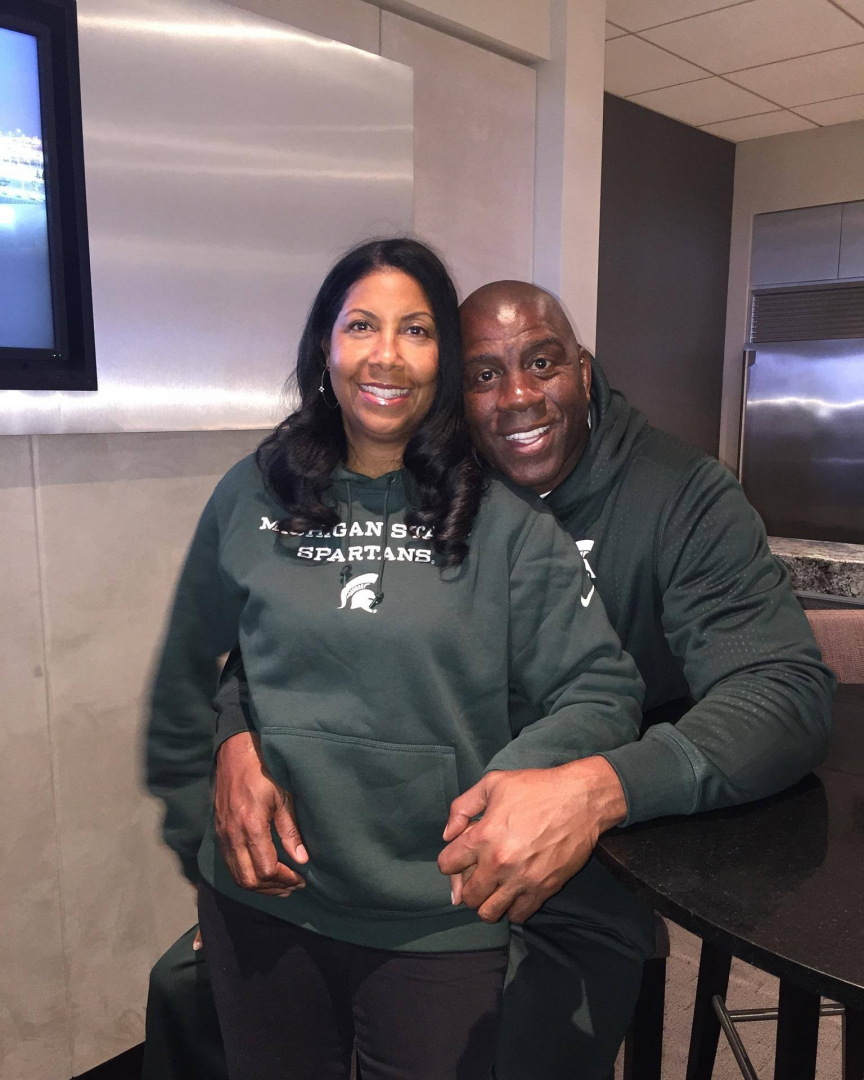 Magic Johnson is calling for his alma mater, Michigan State to be held accountablefor the sexual assault scandal currently rocking the school. The Los Angeles Lakers president of basketball of operations posted a series of tweets advocating for firing anyone who "didn't say or do anything about" the sexual assault of women on MSU's campus. Johnson's stance echoes the sentiments felt by many Michigan State students, alumni, fans, sexual assault victims and their supporters who are fed up with the campus' rape culture.
An ESPN Outside the Lines report recently blew the lid off the alleged rape culture at Michigan State and accused the embattled athletics department of covering up or mishandling sexual assault allegations. The report named beloved MSU football head coach, Mark Dantonio and basketball head coach, Tom Izzo as participants in the university turning a blind eye to sexual violence against women by male student-athletes. Both Dantonio and Izzo made individual statements in response to the accusations, denying knowledge of any problems while vowing to stick by the survivors of sexual assault. While Dantonio immediately came off as defensive, Izzo was a little more careful with his words.
"We've got a lot of things to cover, a lot of things to go over," Izzo said during an on-court interview before last Friday's Michigan State vs Wisconsin game. "I just hope that everybody rallies behind this team a little bit, and I hope we all rally behind the survivors, and we make our community a better place."
The iconic coach also mentioned that the "top priority in this healing process is [to help] our courageous survivors" and vowed to be "a part of the process" on the university's road to redemption. All good intentions aside, when the press asked about his knowledge of certain instances of sexual assault and violence during his tenure, Izzo's insistence that he "cooperated with authorities" during past investigations fell flat and appeared as a denial of responsibility.
As the face of one of the most storied basketball programs in National Collegiate Athletics Association (NCAA) history, the expectation for accountability is at an all-time high. So far, depending on who you ask, neither Dantonio nor Izzo haven risen to meet the challenge.
Magic Johnson is standing by Tom Izzo.
"As a Spartan, I love MSU and want to work with Coach Izzo, the administration, and the students to be a part of the solution in any way that I can," Johnson wrote. Johnson went on to tweet that he and his wife, Cookie stand by all the survivors victimized by former MSU sports doctor, Larry Nassar.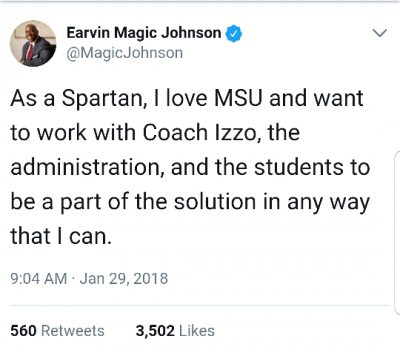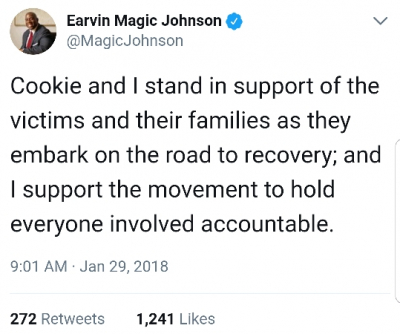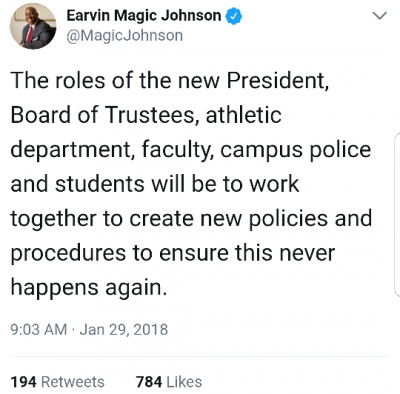 Michigan State alumnus and Golden State Warriors' forward Draymond Green also addressed the scrutiny facing his former coach and pledged his support during a post-game press conference this past Saturday after beating the Boston Celtics.
The denial and inaction by Michigan State athletics and the university at-large continue to be called into question as the Michigan attorney general's office launches its investigation into the university's misconduct. Maybe now that the athletic department has been placed under the microscope of scrutiny, real change can begin on reforming a system that values dollars and reputation over the welfare and well-being of the female victims this rape culture continues to fail.