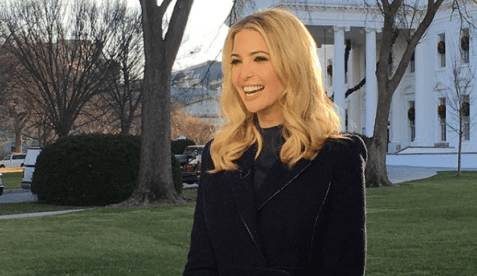 Ivanka Trump thought it would be a good idea to tweet about Black History Month and racial equality. On Feb. 1, Ivanka Trump tweeted, "During Black History Month, we celebrate heroes like Harriet Tubman, Rosa Parks, and Dr. Martin Luther King Jr. who were sojourners for freedom and we resolve to continue to bring greater equality, dignity, and opportunity to all Americans, regardless of race or background."
The tweet would have been fine coming from almost anyone except a member of the Trump family. While Ivanka may feel as if she was supporting racial inequality with a tweet, she has been complicit in her father's racism.
Donald Trump's entire presidential run began after his racist notion that Barack Obama was not born in America. Other racists followed Trump and he gained a large following. His campaign speeches were fueled by hate. And he called the racists in Charlottesville "very fine people."
Ivanka Trump has yet to denounce her father's racist antics. As a result, her tweet in support of Black History Month was meaningless.
Here is how others responded on social media:
Did Ivanka just make #BlackHistoryMonth about ALL Americans? What is wrong with her? Plus, did she use "sojourners" in the correct context 🤔

— Sonya 🌻❄♊🍷🌊 (@suiteplat) February 1, 2018
Your dad is a racist that thinks White Supremacists are very fine people.

You are complicit.

So thanks for your tweet, but honestly, you can keep that shit for yourself.

Your whole family is going to jail, chica. pic.twitter.com/SOI3wvJwVw

— Frederick Douglass (@gettinnoticedmo) February 1, 2018
Lady, you and your family, particularly your father, @POTUS hardly have a proven track record of success with "freedom for All Americans", let alone African-Americans. You tried it though. #LivingInAnAlternativeReality

— Aisha Heath (@aisha_oni) February 2, 2018
Either you don't know what sojourn means and are trying to sound cool or you think those heroes who fought against the kind of oppression your Dad advocates only did it temporarily.

— Graham Klerks (@GrahamKlerks) February 3, 2018