Author and entrepreneur Rafa Wright is deadset on buying the 'hood back. As the author of If You're Reading This, U R Learning How 2 Hustle and Wealth, the Detroit native understands the importance of wealth from every aspect. He's currently in the process of building the first Black-owned grocery store in Detroit, along with other business ventures.
How did you become financially literate while growing up in Detroit?
Everything is self-taught. This information wasn't taught to me at home, especially in the community that I lived in. These were things that I had to pick up and learn. It's psychological for me. I remember how I felt when I had money in my pocket, and how I felt when I was broke. I got outside of my comfort zone and studied what the winners did, and it worked out for me. For me, being wealthy isn't being rich, but I'm without need so I'm very wealthy.
Talk about the differences between your two books, If You're Reading This, U R Learning How 2 Hustle, and Wealth.
[There is] a correlation between both books. If You're Reading This, U R Learning How 2 Hustle is an entrepreneur[ial] guide to getting money from a street hustler's perspective. You have two ways to look at drug dealers in the 'hood. You could look at them as bad individuals or you could look at them as teachers. The first entrepreneur I saw was a drug dealer, and that person was my neighbor, my brother, my friend, and my protector. I saw the human in him, but I also saw how he survived so I took those lessons and turned it into a book. Wealth is the graduation from How 2 Hustle. Wealth teaches you how to keep the money that you've made. Instead of blowing money on material things, you can invest your money and make it work for you.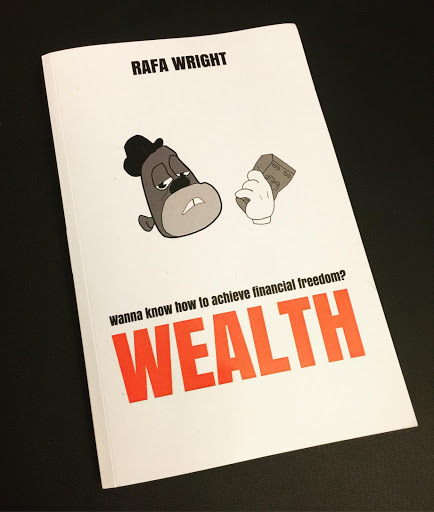 You're building the first Black-owned grocery store in Detroit. There are pockets of Detroit that are food deserts. Do you believe this is a form of intentional genocide?
Absolutely. Everything is by design. The way that certain foods [are] promoted to black people [is] one of the main problems. If you visit any poor community, you don't see advertisements [for] healthy living. All you see is Coca-Cola, beer, wine, etc. Society believes that people in the 'hood aren't anything but a dollar. We're money to certain entities and nothing more. There are grocery stores in the 'hood, but they sell rotten food to its consumers, so the grocery store is useless in the end.
What are three financial actions that Black people can take to increase their wealth?
First off, entrepreneurship is a must. I don't think anyone can rely on a 9-to-5 anymore. Pensions are almost nonexistent and social security checks will probably be gone after the millennial generation. Secondly, we must pay ourselves first, because we give our money away, rather than saving it. And finally, we must become more knowledgeable about finance and make the right investments and decisions.