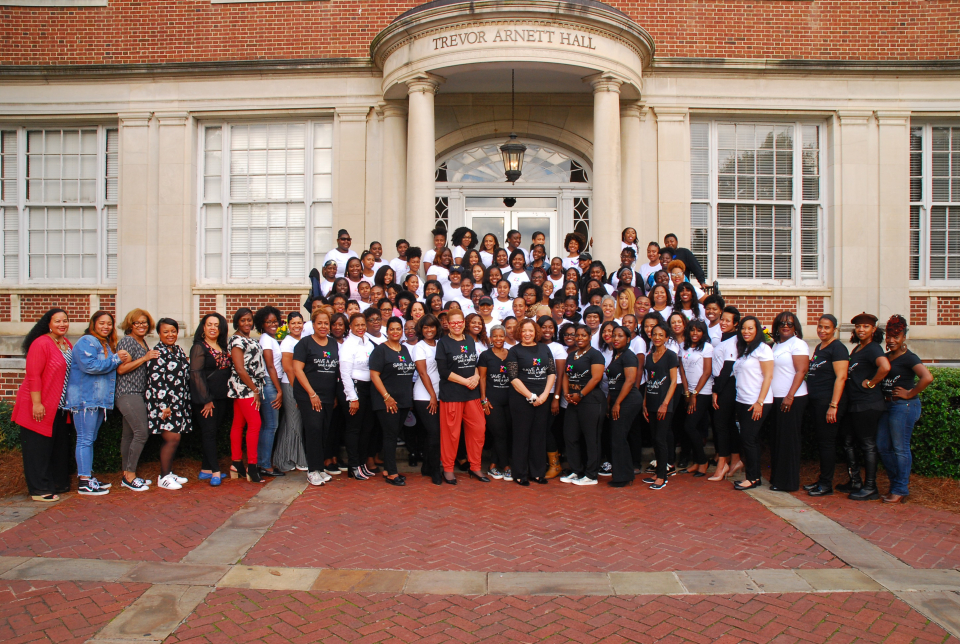 Glenda Gill, a former automotive industry leader and proven change agent, has a very impressive and accomplished resume. The former executive director of Rainbow PUSH Citizenship Education Fund Global Automotive Project has made vast strides in the auto industry including being lead negotiator in brokering the benchmark deal to initiate diversity at Toyota by solidifying their 21st Century Diversity Strategy, an incredible 10-year, $7.8B initiative. She has also secured more than $1B in deals for 100-plus Black and minority businesses, and has skillfully interfaced worldwide with automotive titans such as Ford Motor Company, Chrysler and General Motors for many years. The Detroit native has definitely made her mark in the industry and will always be heralded for her significant contributions.
With a recent move to California, Gill has since shifted her focus to making an impact on young women around the world by founding the nonprofit mentoring organization Save a Girl, Save a World. The organization provides multi-generational mentoring to young women at Historically Black Colleges and Universities (HBCUs) all while focusing on four pillars of success: wealth, life skills, careers and health and wellness.
"We wanted to show young women what a productive, fulfilling, spiritual life with joy looks like. We want girls to really know that they are our legacy and next generation of leaders; that we care about them and how they show up, represent and appear in the world," Gill said of her organization.
"Together, we assembled our professional resources along with our network of some of the brightest and most accomplished women from coast to coast to work with us as mentor, holding the idea of developing sisterhood with a younger generation to share knowledge and experiences would prove invaluable," Gill went on to say about the mentors.
Rolling out had the opportunity to sit down and speak with this dynamic woman to find out what makes her a female success factor. Read what she shares below.
What is your favorite affirmation and how has it been a factor in your life?
My life flows easily and effortlessly with divine grace, blessings, abundance and joy.
Beyond the scope of your work, what causes do you support and/or participate in?
Support and participate in the upliftment or advancement of people who are typically marginalized and/or disenfranchised and heavily engaged in women's empowerment and mentoring.
What is the 'art of communication' to you? How has your communication style factored into your success?
The art of communication for me is ethos, pathos and logos and each have factored into my successes throughout my life in both my professional and personal life.
Has competition or being driven been a key factor in your success?
I am not driven by competition as I am by service. Being driven for me has been a major impetus for my push and drive to be successful. While it embodies the car and automotive culture, for which I am a Detroit (Motor City) native who has worked on automotive projects, it has been a guiding force for me to continue to meet and master the demands of life and industry with success.
Describe how making hard choices has factored into your success.
Success is never by accident and it is always important for me to remember that. Even when it's hard, sometimes it is the smallest or hardest decisions that can change your life.
How has being empathetic and listening to others helped shape your success?
Empathy has helped to foster understanding and develop a better sense of communication with others. In this respect, it has taught me to see more than one side of any situation.
Finish this sentence: Being agile and having the ability to adapt has …
Given me grace under fire which has resulted in many triumphs.
How has goal-setting factored into you being able to attain success?
In some instances, goal setting has worked, however synchronicity has played a key role for me; being open to what the Universe has in store and allowing it to manifest.
Please describe your professional achievements. What pinnacles of success have you reached?
I've been able to:
Create "SAVE A GIRL, SAVE A WORLD", a non-profit mentoring organization of high school & college students which are mentored by adult women on HBCU campuses.
Organize a Japan Trade mission for African American automotive suppliers to meet with Honda, Nissan & Toyota manufacturers.
Create a historic automotive diversity scorecard with the goal of holding automotive companies accountable to their public diversity initiatives.
Be instrumental in having one of the first automotive companies, Toyota Motors, to initiate a $7.8 billion commitment to diversity over a 10 year period.
Describe how your record reflects a sustained level of top performance. How does your work impact the community?
Success has changed for me. I'm grateful to wake up with breath every morning and continue with joy, service and accomplishment for another moment of life.
My work allowed me to set new benchmarks on automotive diversity which resulted in contracts, opportunities for communities and fairness in lending finance practices for consumers.
How have you used intuition to your advantage in dealing with clients, prospects and associates?
My intuition helps me identify my 'true' sense of mission and purpose. Following my dreams and being clear in what I want moves me faster to my definition of success. My intuition is the laser beam that will get me where I want to go quickly. When I use my intuition, I'm open to new ideas and when things are off, the bells ring.
Please describe your leadership style and tell us why you think it works.
I have a collaborative, inspirational visionary leadership style that works for me.  It's fundamental to have the humility and listen to ideas of your team so you can build on their strengths to learn and grow.
How did/does mentoring factor into your career and/or personal life?
Mentoring is my passion and life's work. I have no doubt that committed people who take the time and care to support, influence and guide others in a positive way can positively change the world.
Finish this sentence, "Without passion…"
Without passion for me, life would not be colorful, creative and joyous. Passion is the magic of life.
How has "staying the course"been a factor in your personal and professional life? 
Over the course of my professional and personal life, I have lived with the fundamental belief that staying the course has meant persevering through peaks and valleys to become victorious.
Tell us about how building and fostering relationships has been a key factor to your success.
I've been a long-time collaborator and believe our ability to develop relationships with others is essential to the level of success in our public and private lives. I'm a natural in relationship and team building. I generally like people and get excited about their success and how we can be mutually beneficial to one another.
How has affecting change and taking calculated risks contributed to your success?
I have no fear of failure, so taking risks is the experience of life which is always evolving.