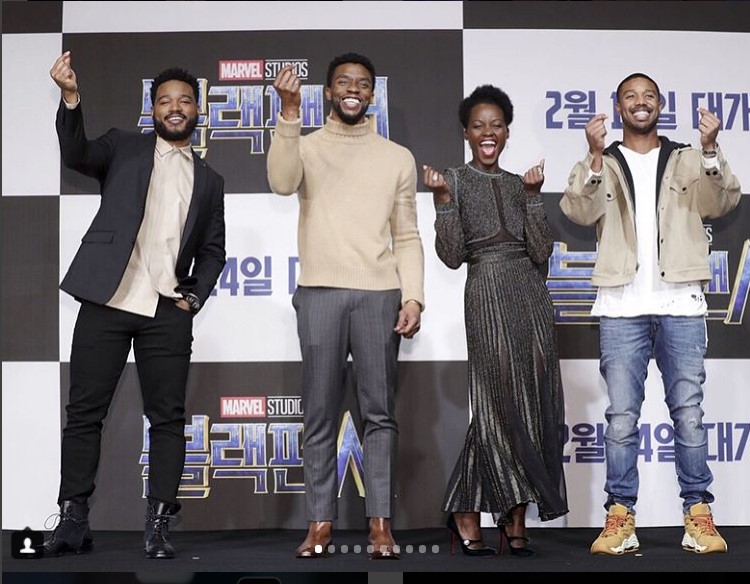 You knew that throngs of Black Panther patriots were going to strut into the theaters of America to show off and show out.
The first-ever Black superhero for Marvel Comics made its debut this past weekend to record-setting numbers and is poised to become one of the comic giant's most profitable motion pictures ever.
In celebration of this unprecedented, historic occasion that imbued cultural pride into an entire demographic that few other things have, Blacks came cloaked in some of the most glaring, eye-popping and even outrageous outfits possible. And no one could tell us anything.
Check it out:
Y'all get on my damn nerves 😂😂😂😂😂😂 #BlackPanther pic.twitter.com/SXpAEDCgN7

— So Wavy (@SimoneIsyss) February 16, 2018
How the squad and I pulled up to see #BlackPanther w/ @hey__ozzy @Nighk_ @BreadJusCam1n @Mister_Nocho @ayokuseun @BeltusTebid @bvndu @KingDozi
📸Shot by @Seyi_stacks23 pic.twitter.com/kZyT6tyGC7

— YORUBA' Tupac✨🇳🇬 (@waletwotimes) February 16, 2018
Had to do it one time for the culture! ✊🏾 #BlackPanther pic.twitter.com/3joJKkPMyR

— Alvin Opiyo (@alvinOAK) February 16, 2018
Aight so hear me out…
I know they don't drive Hondas in Wakanda…but if we all get on one Accord….👀 ✊🏾✊🏽✊🏿 #BlackPanther
📷@_maplebae_ pic.twitter.com/0fwDgecHfj

— s o u p (@joshuahsoup) February 16, 2018
Watch The Throne. Wakandan Style #BlackPanther#ThatsBriskpic.twitter.com/QUmfp4ZU5j

— Geeks of Color (@GeeksOfColor) February 16, 2018
Check out more Black Panther-inspired outfits by flipping the page: