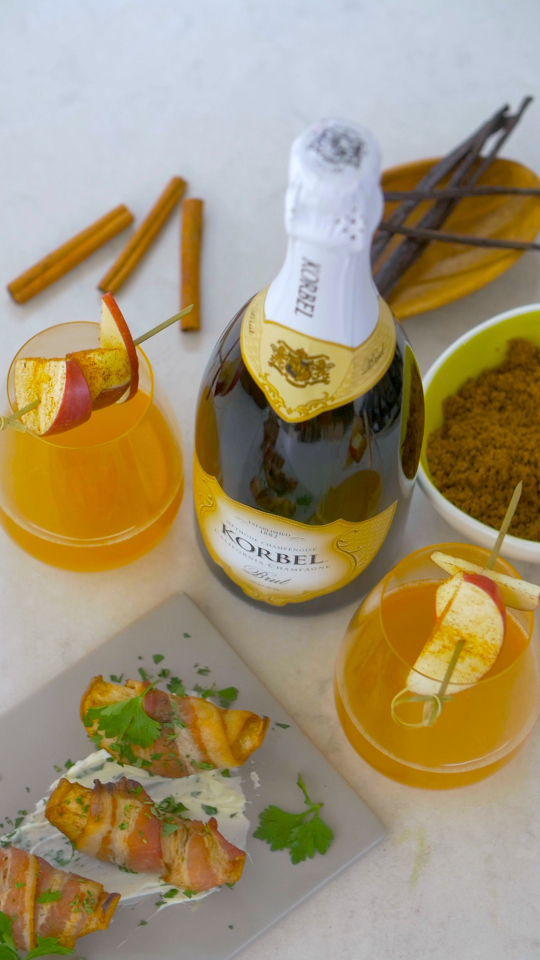 The 90th Academy Awards ceremony will honor the best films of 2017 and will air live from the Dolby Theatre in Hollywood on Sunday, March 4. Here are some appetizer pairs that deserve their own golden statue.
Brunch Bacon Wrapped Pears with Cinnamon-Sugar and Mascarpone Cheese
Ingredients:
8 bacon slices, thin to medium thickness
2 comice or Anjou pears, cut into quarters lengthwise, seeds and core cut out
1/3 cup brown sugar
½ tbsp. cinnamon, ground
3 tbsp. butter, melted
½ cup mascarpone cheese
1 tbsp. flat leaf parsley, chopped
Method:
1. Preheat the oven to 400F. Place a baking rack over a cookie sheet or small sheet tray lined with aluminum foil or parchment paper.
2. In a bowl, mix the cut pears with the melted butter, then coat with the brown sugar and cinnamon. Wrap each coated pear with a piece of bacon and place on the rack. Bake in the oven for 20-30 minutes or until the bacon has crisped and pears are tender. Remove and rest on the rack until warm.
3. Spoon 8 mounds of mascarpone cheese onto a serving plate and place a warm bacon wrapped pear on each. Sprinkle with chopped parsley and enjoy with Korbel Vanilla Orchard Cocktail.
Pairing: Vanilla Orchard
Ingredients:
12 full ounces Korbel, chilled
4 full ounces vodka, chilled
½ gallon apple cider (you'll have plenty of extra vanilla cider for later use. You're welcome)
½ vanilla bean
1 apple
ground cinnamon
Method:
1. With a small knife, split the vanilla bean down the middle lengthwise. Run the knife down the inside of one piece to scrape out the vanilla seeds. Add the seed and the vanilla pod into the cider, stir well or shake to incorporate. Allow to steep in the fridge for at least 24 hours.
2. Just before pouring the cocktail, make the garnish by slicing an apple into quarters. Lay one-quarter flat side down and slice diagonally to cut out the core and seeds, then lay skin side up and cut across to create thin slices. Lay the slices out on a plate and sprinkle with cinnamon. Thread two apple slices onto a bamboo skewer or toothpick about ½ inch apart.
3. In each glass, add 2 full ounces of vanilla infused apple cider and 1 full ounce of vodka. Pour in 3 full ounces of Korbel. Top with a cinnamon apple skewer.
(Serves 4)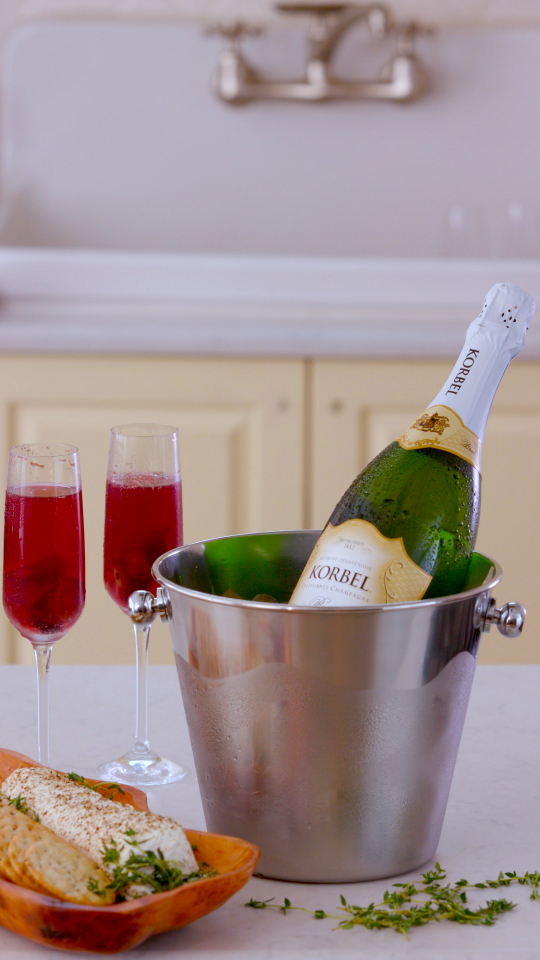 Celebration Grilled Cheese with Goat Cheese, Grain Mustard, Fig Spread and Thyme
Ingredients:
8 slices hearty style bread
2 cups crumbled goat cheese
½ cup grain mustard
½ cup fig spread (Available in Italian or gourmet markets or online)
4 tsp. fresh thyme leaves
1 4-ounce stick of butter, melted
Method:
1. Lay out the 8 slices of bread, spreading 4 pieces with fig and four pieces with grain mustard. Evenly distribute the goat cheese over the four slices with the fig spread and then sprinkle on the fresh thyme leaves. Close the sandwich. This can be done ahead of time.
2. When ready to serve, plug in a Panini press or heat a large pan over medium heat. Brush one side of each sandwich with melted butter and place buttered side down. Brush the other side of the sandwich and close the press or if in the pan, cook one side until dark golden brown, flip and repeat on the other side.
3. Cut each sandwich into four pieces and enjoy with a Korbel Ultra Violet Cocktail.
Pairing: Ultra Violet
Ingredients:
12 full ounces Korbel, chilled
8 full ounces concord grape juice, chilled
4 full ounces vodka, chilled
zest of ½ lime
6 grapes, cut in half lengthwise
Method:
1. Lay out grape slices on a plate so they are separated and place in the freezer for at least four hours.
2. In each glass, add 2 full ounces of Concord grape juice, 1 full ounce of vodka, lime zest, and three frozen grape slices. Pour in 3 full ounces of Korbel.
(Serves 4)