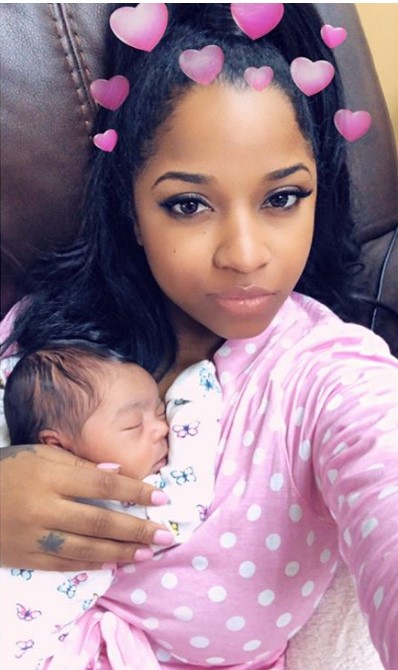 Despite being admonished multiple times to choke back the urge to lash out at the throngs of faceless, dastardly social media trolls, an impetuous Reginae Carter heedlessly fired away at the haters in defense her infant sister, Reignbeaux Rushing.
We know from episodes on "Growing Up Hip Hop" that Carter is easily lured into a fight. And we also witnessed how the 19-year-old college student and daughter of Toya Wright will defend her family at a moment's notice, as was the case when rapper Khia bashed Carter's mother for having another baby out of wedlock.
But hating on a defenseless newborn's skin tone and calling her names incited a very visceral reaction from Carter. And she stormed over to her social media post to spit streams of fire for people hateful enough to denigrate infant Reign.
Toya Wright's infant girl, who was featured in a picture with Tiny Harris, was called a long list of cruel names because of her skin tone.
Visibly shaken, Reginae Carter went off in this Live Instagram post that also appeared on YouTube:
A lot of people lined up behind Miss Carter in a monolithic front to defend the adorable baby against cowardly, callous trolls
One defender responded on Carter's IG post saying: "People so ratchet and tacky on Instagram …. can't wait to find some s— to say about how a brand new baby looks….?! The baby looks tasty and healthy, and so does the person that's holding her in the pic. People are so toxic on Instagram. These are people that I wouldn't have near me in my hood. So much hate envious ignorance by so many people commenting, and don't know what they're talking about. I'm almost positive they're a lot of kids and teens commenting."
Another responder added this on Carter's IG page as support: "I too called a girl child the U word because she brought my child up. What we all need to understand is that when we call anyone the U word, it's not directly going to that Human being. It's going straight to GOD that his creation is ( the U word). & half the shit don't b true but just to hit a nerve. May our GOD in the name of Jesus forgive U & I (Us). U behind that phone, pad, computer whatever don't forget that the devil is real. His first name Devil, last name Evil & when he is ready to take something sooo IMPORTANT or bad luck your whole life don't be angry @ GOD for letting it happened b angry @ yourself & your tongue. When u behind that phone writing evil stuff about a child, new born @ that the devil will take care of you not GOD cus GOD don't don't do or give evil."
Some added that Carter should cease and desist fighting with the invisible people online because it's a fight she cannot win. Others added that the child's parents may want to rethink their social media strategy with baby Reignbeaux.