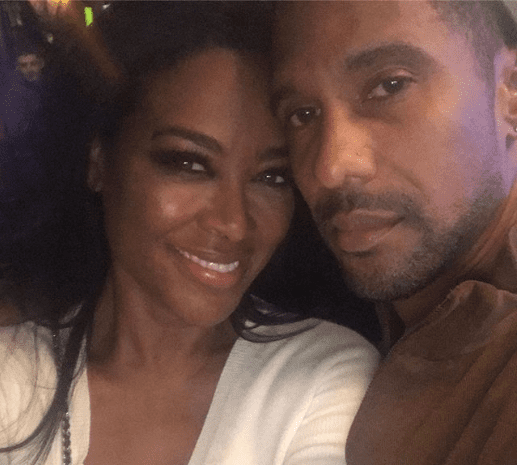 "Real Housewives of Atlanta's" abrasive firecracker Kenya Moore and her new husband Marc Daly walked a red carpet together for the first time at the Elton John AIDS Foundation Oscars.
Also as a first, the couple allowed themselves to be interviewed together about their marriage, the RHOA show and Moore's alleged termination at the end of the season.
The reality star and real estate businessman sent shockwaves through RHOA when they secretly married on June 10, 2017 on the island of St. Lucia.
Speaking with Nischelle Turner from "Entertainment Tonight," Daly confessed that he knew from the very beginning that Kenya was the one for him.
Daly told the entertainment publication that she has a great heart and is a great woman and that it was the proverbial "love at first sight" between them.
The restaurateur also stated that he fell in love with Kenya on their first date.
Moore, 47, who has sometimes appeared desperate to get married and have a baby, added, "I knew the first day. I remember calling Cynthia [Bailey] from the show, and was like, 'I just met my husband.' It was that kind of chemistry."
The Dalys also told "ET" they are not about to let Moore's co-stars from "RHOA" bring them down despite all the rumors that have said that Daly is little more than a figment of Moore's imagination. They say they are very happy together.
"Honestly, I just laugh at it," Marc said. "I know I'm real, and she knows I'm real and that's all that matters."
Moore said, "When you finally are at peace with yourself, and you find someone who centers you and who loves you unconditionally, and they just bring out the best in you, you want to be a better person for them. And I feel like I want to be a better person for not only myself but my husband. I think we bring out the best in each other."
Moore took pains to inform the public that she is not being ousted from the reality show.
"I can't be fired, so that's not true," she claimed.
The couple also said that Daly will finally make an appearance on RHOA, but they didn't specify when.
Stay tuned.