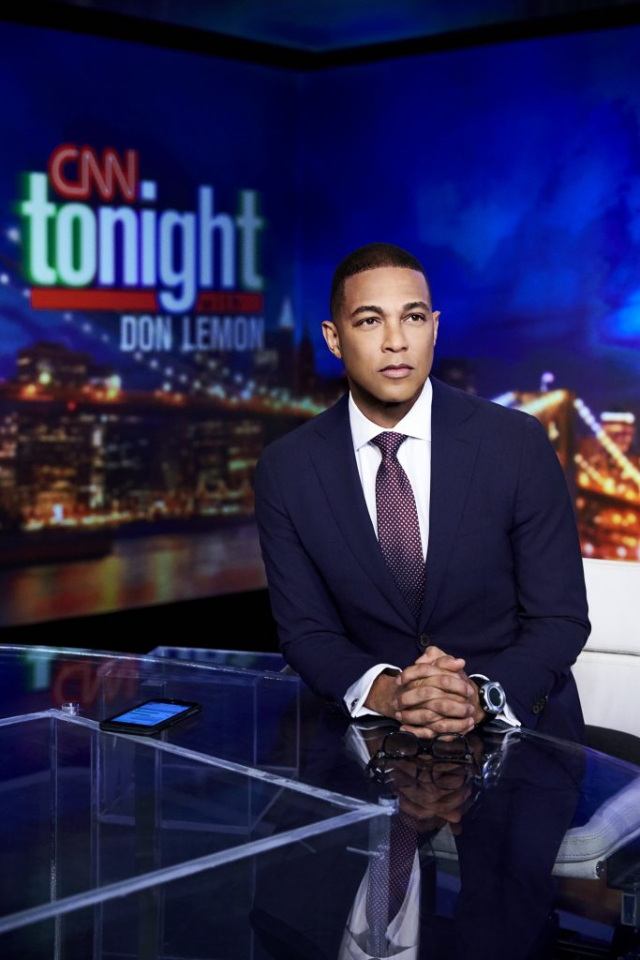 Don Lemon is a Southern gentleman. The anchor of "CNN Tonight with Don Lemon," which airs weeknights at 10 p.m., is the consummate professional with reporting skills that are uniquely captivating. Most nights, this writer is an "early to bed, early to rise" type of lady. But when I tune in to Lemon, that rule is broken.
Based in New York, Lemon joined CNN in September 2006. He previously reported from Chicago in the days leading up to the 2008 presidential election, including an interview with then-Rep. Rahm Emanuel on the day he accepted the position of chief of staff for President-elect Barack Obama. He also interviewed Anne Cooper, the 106-year old voter President-elect Obama highlighted in his election night acceptance speech after he had seen Lemon's interview with Cooper on CNN.
There are those "authentic and real moments" like when Lemon posed a question about former White House aide Omarosa Manigault Newman to panelist Symone Sanders. Sanders was not here for it, especially considering it was Black History Month. Sanders had no problem expressing her disinterest. "I'm just saying. It is Black History Month, OK? Carter G. Woodson did not go to the mat to get Negro History Week that eventually turned into Black History Month for us to talk about Omarosa and her apology tour and her attempt to salvage her reputation on a reality television show. Not during Black History Month, Don."
The comment led to a fit of laughter that for Lemon was reminiscent of back home in Baton Rouge, Louisiana, when he conversed with family about current events.
Ninety-nine percent of the time he isn't laughing because he's reporting about the latest shakeup at the White House, the dreadful reports like the Las Vegas shooting (2017), the Orlando shooting at Pulse Nightclub (2016), Charleston church shooting (2015), death of Freddie Gray while in police custody, the shooting of unarmed teenager Michael Brown in Ferguson, Missouri (2014), the George Zimmerman trial (2013), the Boston marathon bombing (2013), the Philadelphia building collapse (2013), the Sandy Hook Elementary School shooting (2012), the Colorado Theater Shooting (2012), the death of Whitney Houston, the death of Michael Jackson (2009), Hurricane Gustav in Louisiana (2008) and the Minneapolis bridge collapse (2007). A history-making highlight was the inaugural of the 44th president in Washington, D.C.
A  multiple-Emmy Award recipient and Edward R. Murrow award winner, Lemon has also anchored the network's breaking news coverage of the earthquake and tsunami in Japan, the Arab Spring, the death of Osama bin Laden and Joplin tornado.
Lemon shares with readers why he's outspoken, talks about the recent loss of his sister and who he wants to impress.
Here's our interview.
In my research, I've read that you don't identify with a political party. Is this true?
I've never been one to be a part of a political party. I am independent in that sense. What's happening in this administration is that it goes beyond Republican or Democrat. It's something we've never seen before and it's not normal. Every single day, something happens. Today, as we are speaking, [President Donald Trump's] chief economic adviser [Gary Cohn] has resigned I am sure there will be another resignation or something that happens out of the ordinary or major story that would have adversely affected any other administration but it doesn't really seem to affect this administration. This is why it's important for people like me to not attach to any political party.
When I was younger, the reporting of news was different. I am sure it was the same for you when you first started reporting early in your career in Birmingham, Alabama, doing local news. 
I did local news, shootings, robberies, council meetings. … The news that I do now, affects the world. It couldn't get any harder unless I was in a war zone. I am covering terrorist attacks, police shootings and policies at the White House.
You are an out of the box reporter. Is there anyone in your family whose personality is similar to yours or as we say in the South, who do you take after?
People always say I look like my dad and have his mannerisms. I really do have my mother's personality. With my mother, what you see is what you get. My mom informs my personality because she lives life at every moment. She is authentically herself and taught me to be that way. She taught me not to worry about what people think and I only have one life. And that has since been confirmed to me with the loss of my sister. My mother influences my personality more than anyone.
Is there someone you want to impress or never let down?
I don't want to let the viewer down, ever. I have certain standards for myself. I never want to let down my mom. I have always wanted mom to be proud of me. My mom likes what she sees on television. She doesn't always understand it. She doesn't always agree with everything I say or do on television. But, ultimately, she's proud of me.
In the overall sense, I don't want to let her down. Your question is important because I find that sometimes people on television are speaking to an audience of one, whether it be their president, their spouse, their mother, their boss or someone they are trying to influence or impress. I don't really do that. I speak from my heart. I ask the questions for the people at home. And, I am not going to pretend to be speaking to any certain person or a group because, at the end of the day, I am a journalist. I have to carry myself as such. If I don't, then I don't have any credibility.
If there's one thing in this world you could change, what would it be?
I would change the crazy partisanship that is going one right now. If I could change anything in this world, I would bring my sister back. But, that's not going to happen.
But professionally, I would get rid of the partisanship so that people can see the truth of things and what's good for the country.
What advice did your older sister L'Tanya "Leisa" Lemon Grimes, offer you that sticks out the most right now?
My sister said to me: "I am really proud of you. And, remember when you are on television, you are on there for no one else but you. You be you on that television [sic]. As long as you are you and you are being Don, that's where you will get your success from. Don't be fake."
Are you living your purpose?
I am. Without hesitation, I can answer that question. Yes, I am living my purpose. This is the most important time to be a journalist. This is a very important time to be relentless. I am living my purpose in this moment. That doesn't mean that over time one's purpose can't change. My purpose can change tomorrow, next week or next year. I am living my best life.